The Best Blinds for Your Bedroom
Your bedroom is often your sanctuary away from the world; it's the place you feel comfortable, want to relax in after a long day, and it's a place you should love every inch of. That's why choosing the right indoor blinds to fit your needs is so important!
The best blinds for your bedroom
Here's your guide to choosing the best indoor blinds for your bedroom windows!
Vision blinds
Vision blinds (also known as day and night blinds), are an elegant indoor blind for your bedroom, featuring two layers of horizontal striped fabric (opaque and translucent), which work in harmony to gently filter light, or block it out completely.
It's for this reason that Vision blinds are perfect for your bedroom.
These blinds give you all the benefits of a Roller blind and Venetian blind combined, working in the same way as traditional blinds.
Vertical blinds
Another great blind for your bedroom is verticals.
Vertical blinds are a functional and popular choice for rooms with large windows as they provide total privacy and light control.
The best feature about Vertical blinds is how precise they can be in directing incoming light. The slats hang vertically along a track, allowing them to be turned in either direction to either open up your room to more of the light, or to block out what you don't need.
These indoor blinds are low-maintenance, practical and available in a huge range of fabrics and colours, they also tend to be a more affordable option if you're not looking to spend a lot.
Vertical blinds have two fabric options: standard and blockout, to give you more flexibility.
If you think Vertical blinds might be the right blind for your bedroom, visit our guide to modern verticals to find out more about these versatile window coverings.
Double Roller blinds
Double Roller blinds are one of the best privacy blinds you can choose for your bedroom. These innovative blinds feature two different layers of fabric in one stylish system, allowing you to alternate fabrics depending on your privacy requirements.
During the day, a sheer or translucent fabric layer will protect your privacy while still letting in plenty of natural light. At night, simply pull down the second layer of blockout fabric to ensure your sanctuary is safe from prying eyes and completely void of any street or car headlights.
Want to find out more about Double Roller blinds? Visit our guide.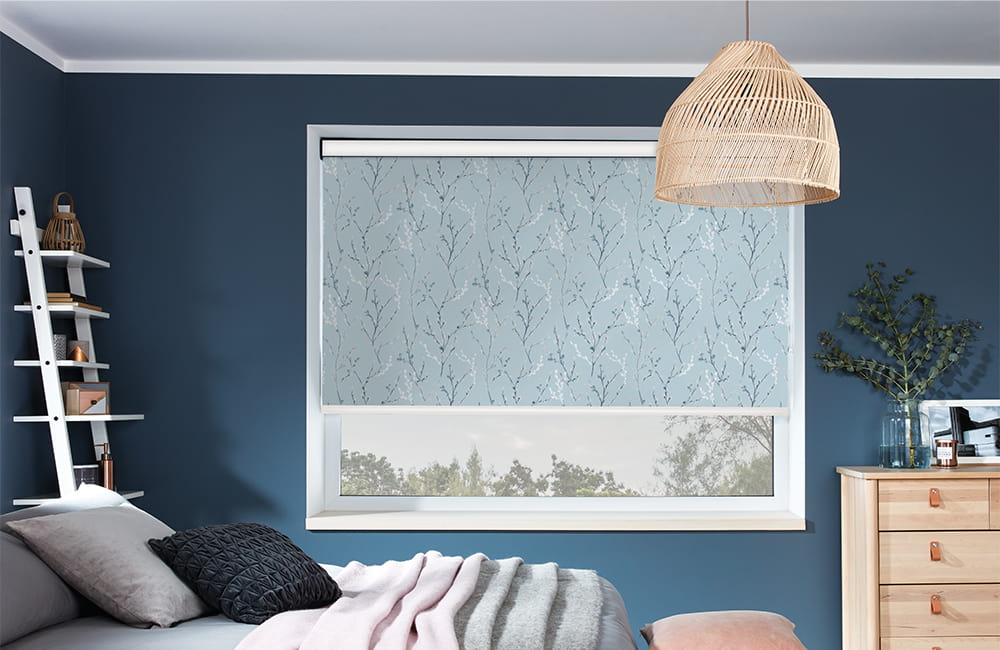 Roller blinds
Offering flexible light and privacy control, Roller blinds are as practical as they are stylish. With an easy-to-use operating system and plenty of fabrics and colours to choose from, they're a popular and contemporary choice for your bedroom.
Go for Double Roller blinds to enjoy the additional option of translucent and block out layers while maintaining a laid-back, modern style.
Learn more about rollers in our guide to Roller blinds.
Roman blinds
Roman blinds are also a popular choice when it comes to blocking out outside light. Similar to Roller blinds, Roman blinds can also be custom made with blockout fabric, to ensure that street lighting and sunlight does not disrupt your night's sleep.
Venetian blinds
Venetian blinds operate similarly to shutters, and even have a similar appearance, for a more affordable price. Elegant and low-maintenance, Venetian blinds are also a great bedroom blind solution.
Want to know more? Visit our guide to Venetian blinds.
Pairing curtains and blinds together in your bedroom
If you don't just want a blind, you have the option of pairing it with a curtain.
Pairing curtains and blinds has many benefits:
It adds that little bit more privacy when your blinds are open
It helps to filter light and create a soft glow in your room
They hide blinds if you don't want to see them as part of your decor
They're simple to install
They can make your space feel more elegant
Sheer curtains
Sheer curtains are a great light-filtering window covering. Custom-made to perfectly fit your windows, sheer curtains are designed to beautifully filter natural light, allowing you to see out but blocking outsiders from seeing in.
Styling sheer curtains is simple, and there are many ways you can choose to do this. Find out some of our top tips for sheer curtain styling in our blog.
Vertisheer blinds
Vertisheer blinds are one of the most popular options for bedrooms as they offer complete elegance, while still being a very functional and effective window covering.
The difference about Vertisheers is that they are considered both a blind and a curtain in one product. Vertisheers are made with the functionality of a Vertical blind, while offering the opulent finish a sheer curtain fabric provides.
Find out more in our guide to guide to Vertisheer blinds!
To arrange a free measure and quote with a highly-trained consultant in your own home, give us a call on 13 13 15 or fill out this simple online form. We provide this service to a wide range of locations around the metro and select regional areas, 6 days a week between 8am and 6pm.
The majority of our blinds, curtains and awnings are made in Australia and are sold for the lowest price in the market, guaranteed. Just bring in a quote on any competitor's comparable item and we'll beat it by 5%.
Book a FREE Measure and Quote now
Simply fill out the form to book an appointment for an obligation-FREE measure and quote, or to ask us any questions.
Which product are you interested in?
Next is we need to know your address for us to select the nearest consultant in your area.