6 Best Blinds for Your Living Room
Enjoy privacy and total light control in the heart of your home with these 6 top living room blinds.
Some consider the kitchen to be the heart of the home, but the living room is just as important. It's a place for rest, relaxation and winding down at the end of a long day (with a glass or two of wine in hand, if you're anything like us). Considering it's a room where you spend a lot of your time and is often close to the road or street, privacy is a huge factor to consider when choosing new blinds for the living room. Light control is another key factor for consideration, because no one wants glare on their TV while they are in the middle of a daytime binge-watching session! Keep reading to find out our top picks for the living room.
Increase your privacy
A decent amount of privacy is important in any living room or lounge area; it's somewhere you want to kick back with your loved ones and relax. Plus, no one wants to be judged for having a marathon Love Island session in the middle of the day. But if your living room windows face the street, your privacy can easily be compromised by passers-by. Most of our window treatments offer great levels of privacy, however there are four styles in particular that we recommend: roller blinds, Roman blinds, double roller blinds, and sheer curtains.
Roller blinds and Roman blinds offer privacy protection in a similar way as they both consist of a single roll of fabric. Once the fabric is rolled down, it will cover the entirety of your window and offer you complete privacy. Choose blackout or blockout fabric for your blinds to create a super dark room in an instant (ideal for TV watching or gaming).
For blinds that maintain your view but still protect your privacy, double rollers are the way to go. Finally, sheer curtains are great if you require daytime privacy, as they allow you to see out without allowing others to see inside! If you're not sold on the appearance of a curtain, vertisheer blinds offer a similar functionality and look stunning once installed.
Reduce on-screen glare
Whether your living room functions as a home theatre or an office, we can all agree that on-screen glare is a huge pain in the butt. If you're watching a movie or show, it can disrupt the entertainment experience. On the other hand, if you're trying to work on your laptop or home computer, it can cause serious levels of unproductivity and in worse-case scenarios, trigger headaches or migraines.
Vertical blinds and Venetian blinds are super affordable and practical choices for the living room as they both offer a combination of light and privacy control, in addition to on-screen glare protection. With a twist of the easy-to-use wand, you have complete control over the direction of the light that enters the room. By changing the direction of the light, you can minimise glare and create the optimal environment for a daytime movie marathon!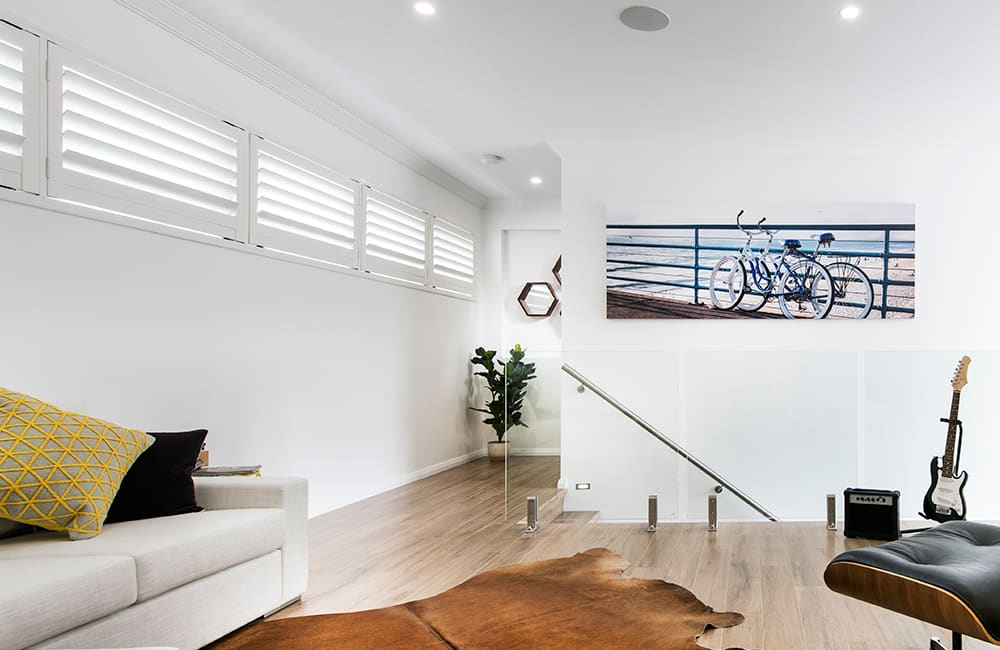 Improve airflow
If your living room can get a bit stuffy due to restricted airflow, then indoor shutters might be just what you need. These stylish window treatments are traditionally used in Mediterranean countries, making them the perfect choice for a Mediterranean climate like Perth. The reason for their popularity in these areas is because they can be used to regulate ventilation and sunlight in any room, plus they're completely flexible. You can have smaller panels if you want to fold them back, or wider panels if you want to leave your shutters in place.
For more information on buying new blinds, shutters or curtains for your living room, give call us on 13 13 15, visit one of our showrooms or arrange a free measure and quote with a highly-trained consultant in your own home.
Book an appointment online now
Simply fill out the form below to arrange an obligation-free measure and quote, or to ask us any questions.