Guide to Choosing the Best Patio Blinds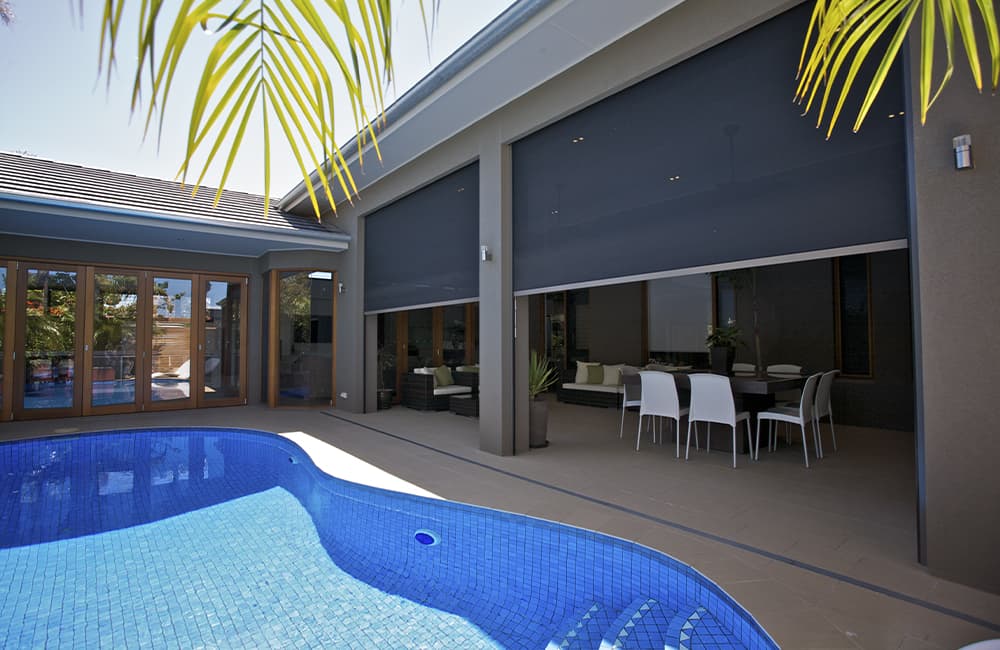 Aussies love to entertain all year round, and what better way to be prepared than ensuring you have good quality patio blinds installed? With many blind options available it can be overwhelming, that's why we've put together a helpful guide to give you the pros of each option.
Considerations for patio blinds
The best place to start when choosing the right outdoor window coverings is by looking at a few different factors and how each will impact the decision you make.
Location
Where you live is going to impact what the best patio blinds are for you. Some blinds are suitable for all areas however, some are better suited to areas with specific conditions like strong winds or rain.
Wind
Do you live in a coastal or wind-prone area? Patio blinds with a higher wind rating are going to be your best option as they are made with stronger materials, designed with high wind speeds in mind.
Style
While there aren't as many style considerations for outdoor blinds as there are for indoor blinds, when it comes to choosing the right patio blinds, it's good to think about if:
You want a fully enclosed space (or the flexibility to fully enclose)?
You want a see through fabric to maintain views or do you need more privacy?
Types of patio blinds
Cafe patio blinds
Café patio blinds are a great option for your outdoor area! These blinds are available in different material options including canvas, sunscreen, and PVC, giving you the flexibility you need to find the right fit for your needs.
PVC patio blinds are a durable option as they're made from a plastic material. PVC blinds will also give you unrestricted views as they're made using a transparent plastic.
Sunscreen fabric patio blinds are perfect for reducing the amount of incoming light, as these shades work by softening light that filters through the sunscreen fabric.
Canvas patio blinds are made from a sturdy fabric, helping to provide outdoor sun protection for years to come, as well as reducing the impact from the elements.
Windmaster blinds
For wind-prone or coastal areas, Windmaster blinds are one of your best patio blind options.
These outdoor blinds are designed in Western Australia, with our weather conditions in mind, so you know they're built to last. Unlike other blinds, Windmaster blinds won't flap around during strong winds, which not only is annoying, but can also be a safety hazard. Instead, Windmaster blinds have been designed with features like heavy-duty base rails, locks, and heavy-duty channels to minimise any fabric movement.
Alpha M blinds
Alpha M blinds are another blind option with wind and harsh weather conditions in mind.
These sturdy blinds are made with special magnets called neodymium magnets, which help keep the fabric taut at all times, therefore making them stronger against the harsh elements the blinds might be exposed to.
Zipscreen blinds
If you're looking to create an enclosed outdoor to entertain all year round with, Zipscreen blinds are a great patio blind option for you. Zipscreen blinds provide ground to ceiling coverage and can add on an extra space without undergoing a costly home renovation.
Zipscreen Blinds are made in Perth, so you're guaranteed to get blinds that are suitable for the harsh Western Australian weather conditions. These blinds will help to reduce harmful UV rays, protecting not only your outdoor furniture but also your skin.
Wireguide blinds
Wireguide blinds (also known as Wireguide awnings) are an outdoor blind offering a sleek, modern, and unobtrusive appearance, perfect for creating a modern home.
Whether it's a hot summer day or a chilly winter evening, these patio blinds can block out wind, rain, heat and some damaging UV light.
These blinds are suitable for all areas without channels, as fixing points can be secured to the ground rather than directly onto walls. Wireguide awnings are another durable external blind option ideal for coastal properties, or everyday suburban homes.
Motorised patio blinds
Did you know that some outdoor patio blinds can be motorised? Our SmartHub motorisation option allows up to 20 sets of blinds to be connected and motorised throughout your home, including some outdoor blinds.
Motorised patio blind options include:
Windmaster blinds
Zipscreen blinds
Wireguide blinds / Wireguide awnings
Want to learn more about motorised blinds? Visit our blog.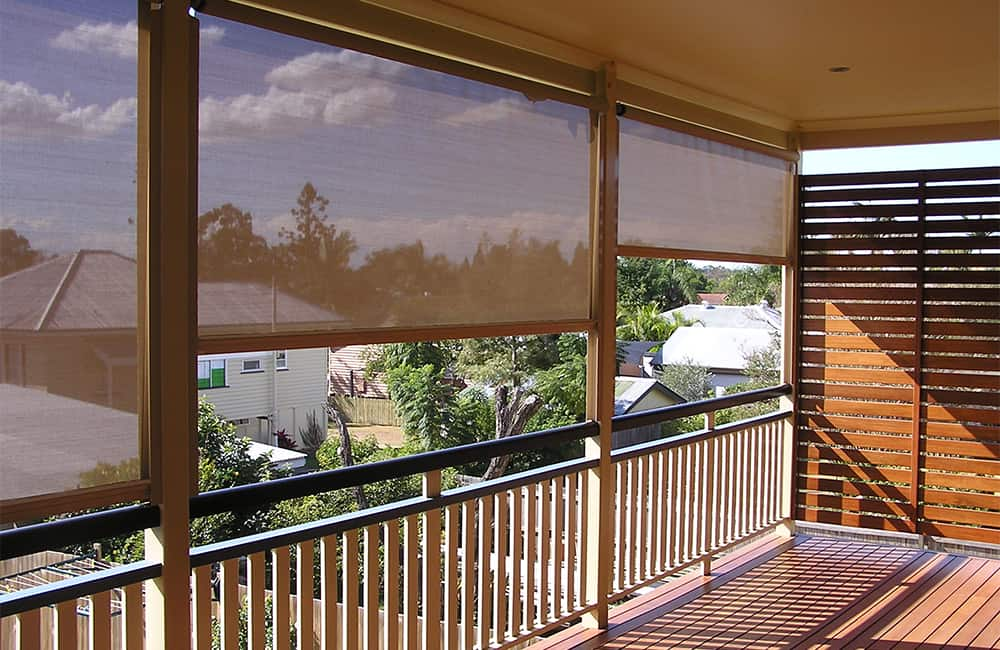 Do patio blinds keep the heat in?
Patio blinds can help to maintain some temperature regulation in your home as they are another filter for UV rays or cold weather to pass through before getting to your windows.
Which is the best outdoor patio blind for wind?
Alpha M and Windmaster blinds are the best options for wind-prone or coastal areas. Both have their benefits, but for more of an in-depth look at these two options, visit our guide on Windmaster vs Alpha M blinds.
Cleaning patio blinds
Cleaning your patio blinds is a great way to keep them looking fresh and maintaining their effectiveness for longer.
While cleaning blinds isn't always a favourite household chore, keeping up with regular cleaning helps reduce the need for a deep clean.
For patio blind cleaning tips, visit our website!
Interested in patio blinds for your home? To arrange a free measure and quote with a highly-trained consultant in your own home, give us a call on 13 13 15 or fill out this simple online form. We provide this service to a wide range of locations around the metro and select regional areas, 6 days a week between 8am and 6pm.
The majority of our blinds, curtains and awnings are made in Australia and are sold for the lowest price in the market, guaranteed. Just bring in a quote on any competitor's comparable item and we'll beat it by 5%.
Book a FREE Measure and Quote now
Simply fill out the form to book an appointment for an obligation-FREE measure and quote, or to ask us any questions.
Which product are you interested in?
Next is we need to know your address for us to select the nearest consultant in your area.