Best Blinds for Keeping Warm in Winter
With everyday prices increasing, now is a great time to make changes where possible that can save you money in the long run, starting with your home and cutting down on electricity costs. One way to do this is by investing in insulating window coverings! Did you know that up to 35% of the heat in your home can be lost via the windows and doors? Rather than cranking up the heat and making your energy bill skyrocket, it might be worth investing in energy efficient blinds. Keep reading to find out more about our range of the best blinds for winter!
Choosing insulating window coverings
Your window coverings have more benefits than just filtering the incoming light into your home. Depending on the type of covering you choose as well as fabric, they can help to regulate the temperature in your room.
While we don't recommend that you go out and replace all your existing blinds or curtains, it's good to keep these ideas in the back of your mind if you're thinking about changing your window coverings soon. It also might be worth considering making changes if you don't have any window treatments installed, or if you want some added warmth without an increase in power bills.
Window coverings with blockout fabric options
If you're looking for insulating blinds, one of the best thermal materials for blinds is blockout fabric. Blockout works by preventing the heat inside your home from escaping in winter, as well as regulating incoming heat during summer, keeping your home cooler.
Many of our window coverings are available in a blockout fabric.
Roller blinds
Roller blinds are one of our most popular blinds, known for their versatility and affordability.
These blinds are available in blockout, as well as sunscreen and translucent fabric options, depending on your needs.
The additional benefit of Roller blinds is that they are one of the best child-friendly blind options, so they can be installed anywhere in your home and keep any little ones safe.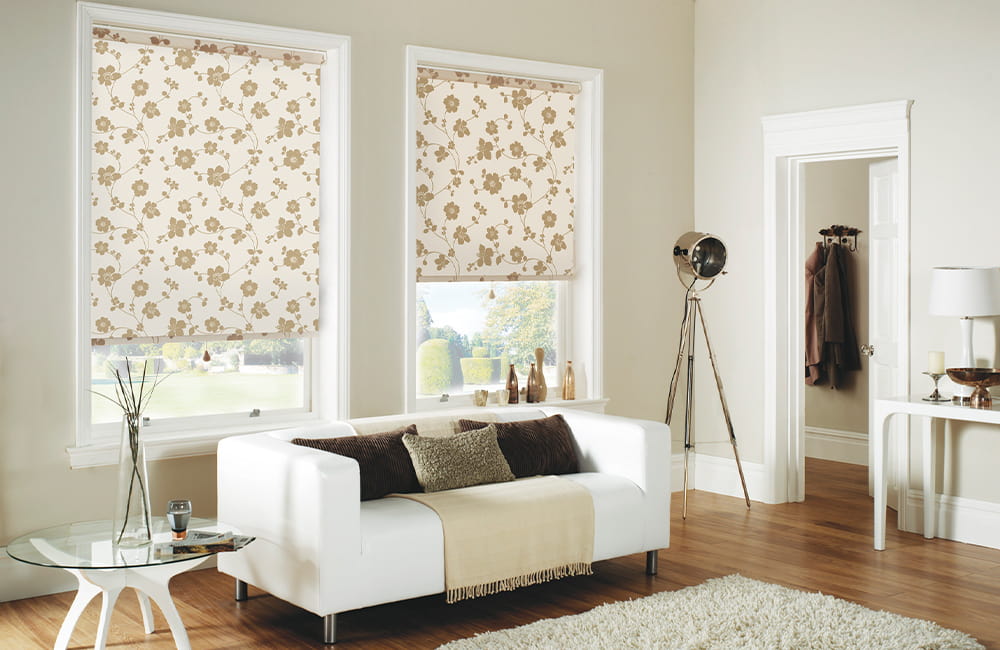 Double Roller blinds
With twice the functionality of a regular Roller blind, Double Roller blinds are one of the most functional ways to manage heat and light. Once installed, these insulating blinds can preserve warmth in your home.
Double Roller blinds are one of the best blinds for winter as they can be customised with your choice of any two fabrics. The most popular option is the combination of sunscreen and blockout fabrics, allowing you to let in soft natural sunlight during the day and blockout light at night.
Roman blinds
Modern Roman blinds are one of the best thermal window covering options. These thermal blinds are a great way to keep heat in as they are made by large fabric panels being mounted onto slats which are pulled together by a chain. Their simple and compact design makes them an affordable option for covering large sections of windows and doors. Plus, once installed, blockout Roman blinds provide insulation against the windows. Not only will this keep the room cooler in summer and warmer in winter, but this will also help to reduce energy bills throughout the year.
Curtains
Curtains are one of the best window coverings for winter as they are made from a thicker material. When it's cooler outside, the thick lined fabric traps warmth inside the home. Then, during the warmer months, the blockout curtains can be drawn to keep hot air from seeping into your home through the windows.
Tip: Request to have your curtains fitted inside a pelmet to increase their insulating powers.
Panel blinds
Panel blinds are a stylish thermal blind that are particularly useful as a sliding door or patio door covering.
These blinds are made from fabric panels and are great as an insulating blind as they are usually made from a thicker material.
Shutters
Shutters are another great option for providing additional insulation. These window coverings are typically custom made so that they have a tight fit within the window or door frame. They also provide your home with privacy and are known for increasing the value of your home. There are many types of shutter options available to suit your needs, including:
Choosing the right blind fit for your window
There are two types of ways you can install your blinds: a recess fit and a reveal fit.
A recess fit is when the curtain or blind sits within the window cut out (known as the recess), whereas a reveal fit is where your window covering fits over the window recess.
A reveal fit is often used to make the window or room feel larger and taller. It can also be used to create a feature point in your room, as it draws the eye to the scale of it.
To get the most out of your blinds, we recommend choosing a recess fit as it gives your blinds more of a snug fit, and seals any gaps where heat could escape.
If you need to know how to measure for a reveal or a recess fit, head to our website.
Getting your window coverings custom made
If you have a standard size window, ordering pre-made blinds and curtains can work well. However, if you have a smaller sized window, or a window that's an odd size, getting your window coverings custom made gives your blinds and curtains a snug fit that's better for sealing any potential draft spots.
Pairing curtains and blinds
While blinds do help to insulate your home, when they're paired with curtains, they provide twice the coverage.
Pairing curtains and blinds together has many benefits including:
A stylish look to your roomM
Adding privacy to your home (particularly useful in suburban areas)
Adding insulation, as it's an extra layer of fabric for heat to pass through.
To learn more about how you can pair curtains and blinds together, check out our blog.
Additional ways to stay warm in winter
If you are in the process of building a home from the ground up, it might be worth double glazing your window glass. While it's a tad pricier compared to simply installing insulating blinds, it's an effective insulation method!
Double-glazed windows
Double-glazed windows are made with two panes of glass instead of a single pane like your standard windows are. In between the two panes of glass, there is a small gap that's either vacuum sealed or has a non-toxic gas in it which helps to prevent heat loss.
If you're unsure whether double-glazed windows are worth the cost, they are also great for reducing outside noise as well as adding another layer of security to your home as the glass is incredibly strong and therefore hard to break.
Sealing any gaps in doors or windows
Over time, the seals on your doors and windows can wear down, making it easy for hot air to escape. Going over any seals with a sealer or putty can reinforce the strength of the seal and make it impossible for air to pass through.
To arrange a free measure and quote with a highly-trained consultant in your own home, give us a call on 13 13 15 or fill out this simple online form. We provide this service to a wide range of locations around the metro and select regional areas, 6 days a week between 8am and 6pm.
The majority of our blinds, curtains and awnings are made in Australia and are sold for the lowest price in the market, guaranteed. Just bring in a quote on any competitor's comparable item and we'll beat it by 5%.
Book an appointment online now
Simply fill out the form below to arrange an obligation-free measure and quote, or to ask us any questions.