8 easy ways to create an energy efficient home
Being mindful of the energy and resources we're using daily is so important. That's why making changes to improve the energy efficiency of your home could make a lot of difference, not only to the environment, but also to your energy bills! Making changes to create an energy efficient home is often thought of as difficult, expensive, or time-consuming, but there are a lot of small changes you can gradually make, to have a significant impact. Here are our top tips on how you can improve your energy efficiency!
What does energy efficient mean?
Energy efficiency refers to ways we can use less energy and resources to perform the same tasks we usually would. It's a more sustainable way to live, which has positive impacts on reducing our carbon footprints.
How to make your home more energy efficient
There are two aspects of your home to consider when you're thinking about energy efficiency. These are the structure and function of your home.
The structure refers to the physical elements that make up your home such as the walls, roof, flooring, and windows. The function is how different elements within your home are used. For example, the heating and cooling, water usage, lighting and more.
Structural elements are simple to integrate into your home if you're building or undertaking a serious renovation. If you're looking for smaller and cost-effective changes, focusing on the functional elements is a much simpler way to make energy efficient changes. So, lets get into how you can create a more energy efficient home.
Ways to be more energy efficient at home
1. Wash your clothes in cold water
Did you know it's estimated between 70 to 90% of all energy your washing machine uses is just warming up the water. The washing machine is one of the most used appliances in your home, however it is also one of the ways you're using both a lot of power, and water. To make washing your clothes more energy efficient, try using cold water where possible. Washing in cold water also prevents your clothes from shrinking, fading, or wrinkling.
It's not recommended to do this for every load of washing. Some items of clothing need warm water, so it's always important to carefully read the care instructions on your clothes!
2. Reduce the amount you use your clothes dryer
There's no doubt that using a clothes dryer has many benefits. It makes your towels nice and soft; it dries your clothes a lot faster than line drying and simply, it's much more convenient!
By making small changes and limiting the use of your clothes dryer, you can save on your electricity bills and create a more energy efficient home.
Some ways you can limit your dryer use include:
If you already have the heater on, why not place a foldable drying rack in front of it and let your clothes dry naturally?
Make sure you're drying full loads, rather than running a full cycle for only a few pieces of laundry.
Using a hairdryer to dry clothes you need. If you have a piece of laundry you need to dry fast, using a hairdryer can avoid putting on a load for one or two items. Before using a hairdryer, make sure to completely wring out your clothes for faster drying.
On days where there's no rain, hanging your clothes on a line or foldable drying rack on the patio can help. Perth is one of the sunniest cities in the world, so often we have plenty of sunshine. Your clothes might take a bit longer to dry but think of all those savings!
3. Switching to fluorescent light bulbs
Second to natural light, fluorescent lights are an affordable lighting choice and more energy efficient than standard incandescent light bulbs. Fluorescent light bulbs tend to cost a little more up front, but they can last up to 12 times longer.
Another easy way to use less energy is to simply switch off lights and other appliances when they're not in use. By getting into the habit of turning off lights when you're not in the room, or where you can utilise natural light instead, the savings will add up.
4. Give your garden a makeover
Does your front or backyard have trees or shrubs? Too many bushy trees can keep the sun out of your home, making it feel colder inside. If this is the case, it might be worth getting out the garden shears and pruning back the greenery.
On the flipside, if you don't have any trees to protect your home from the harsh sunlight, consider talking to a landscaper about planting trees that can provide more shelter from the sun. With the right plants placed in the right locations, it's an effective way to reduce direct sunlight in your home during summer.
5. Double glazed windows
Over 30% of heat is lost during the winter and gained in the summer via your windows, so insulating this part of your house is a smart place to start.
Double glazed windows are ideal for insulation, as they're an incredibly effective way to manage heat gain and heat loss throughout the year. These windows are designed with two panes of glass instead of the standard one, to give your home a thicker barrier between the inside and outside.
The only downside to double glazing is that it can be quite expensive to install upfront.
6. Add solar panels to your home
Solar panels are a great addition to your home for many reasons. The main reason being that you are creating your own energy store to power your home.
An additional benefit of installing solar panels is that it can increase the value of your home, as it makes it a more attractive purchase if solar panels are already installed.
7. Choosing energy efficient appliances
Though they are typically more expensive to purchase upfront, choosing energy efficient appliances can reduce your electricity bills in the long run.
Your household appliances are estimated to use about 30% of your total energy usage. So, by cutting down on their use or choosing more energy efficient options, it can make an impact.
It's also important to note the water usage of appliances as well. Washing machines, dishwashers and even your fridge (if you have a water dispenser or ice maker), can use a lot of water each time they're used, so opting for water efficient appliances can save you money as well.
New appliances often have an energy or water efficiency rating sticker on them to help you compare which is best for your home.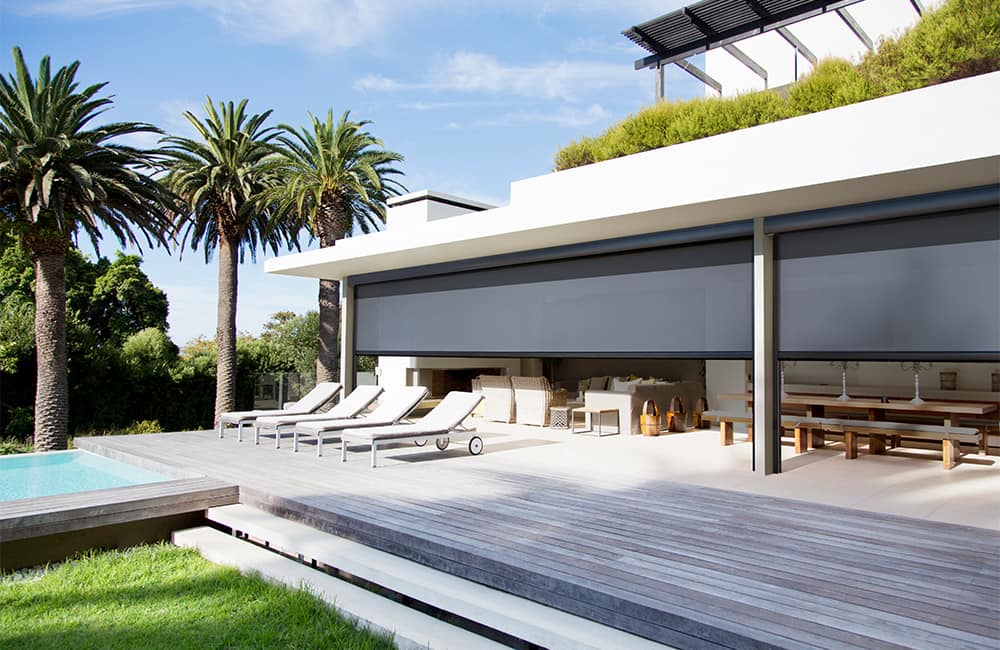 8. Installing energy efficient window treatments
Did you know that the window treatments you install can impact how energy efficient your home is? Indoor blinds can be customised with blockout fabric, a popular choice for energy efficiency. Blockout fabric helps to keep your home cool as the fabric blocks excess light rays from entering the room in summer. In winter, your home stays warmer as the thicker fabric acts as an additional barrier preventing the heat from escaping. Blockout fabric is also great for providing additional privacy for your home.
Popular indoor window coverings include:
Outdoor window treatments are also a great option for helping to regulate the temperature in your home. When you're choosing outdoor window coverings, there are three different options to choose from. These are:
Outdoor blinds: These blinds typically sit on the outside of your window or are used to enclose a space.
Outdoor awnings: Are generally used to provide shade over an area of your outdoor space.
Outdoor shutters: Like outdoor blinds, these can be used on the external side of your window or can enclose spaces. They can also be used for adding extra security to your home.
If you're after an energy-efficient blind, which is also made from eco-friendly products, try our Natural Wonders blinds. Natural Wonders blinds have the option of also being lined with a fabric to create additional privacy and blockout.
If you're wanting to compare the prices of the different blind options available, head to our blog outlining the types of blinds available for every budget.
Our everyday actions have a significant impact on our planet, which is why making small changes to reduce our energy usage and to save water where possible is so important. For more tips on living a more sustainable lifestyle, head to our blog.
Are you looking for new window coverings to be more energy efficient in your home? To arrange a free measure and quote with a highly-trained consultant in your own home, give us a call on 13 13 15 or fill out this simple online form. We provide this service to a wide range of locations around the metro and select regional areas, 6 days a week between 8am and 6pm.
The majority of our blinds, curtains and awnings are made in Australia and are sold for the lowest price in the market, guaranteed. Just bring in a quote on any competitor's comparable item and we'll beat it by 5%.
Book an appointment online now
Simply fill out the form below to arrange an obligation-free measure and quote, or to ask us any questions.