Tips for Sustainable Living in WA
With a big push for more people to be living a more sustainable lifestyle and thinking about their environmental footprint, it can be challenging to know where to start. Not knowing what can and can't be recycled; disposing of odd items like furniture and batteries; and of course, remembering to bring reusable bags when doing your grocery shopping. So, if you're wondering how you can improve your environmental footprint and "go green," here's our guide on ways to think about sustainable living daily.
How to practice sustainable living
A good starting point for creating a sustainable lifestyle is by sorting your rubbish into the right bins. Waste is an unavoidable part of living in the modern world, but we can all minimise the waste we send to landfills.
Do you only have one household bin? If so, perhaps think about adding more. Adding more bins or containers is a great visual reminder to sort your rubbish.
We recommend having:
1 main bin for non-recyclable items
1 bin for recyclable items
1 bin for any containers that can receive 10 cents back from the Containers for Change Program
A few smaller containers for items like batteries, old pens, or electronic devices
A compost bin
How to recycle
When you're looking at any plastics, check to see if it says PET and has the recycle icon. PET stands for polyethylene terephthalate and is a completely recyclable material.
Common items for your yellow recycling bin
Paper (including magazines, leaflets, and newspapers)
Cardboard
Juice and milk containers (without the lids)
Any clean jars or containers that have no lids
Empty aerosol containers
What not to recycle
Garden waste
Medical waste
Light bulbs or ceramic materials
Disposable nappies
How to recycle electronics and household items
E-waste is the name given to any electronic item that's no longer in use or has broken. E-waste consists of items such as old computers or laptops, monitors, keyboards, printers, cables, hard drives or CDs/ DVDs. Electronic items cannot go in your recycling bins and will end up in landfills if they aren't separated out.
One of the best ways to recycle old household electronic items is by going to your local Officeworks. Most Officeworks stores have recycling bins for these items, so you can bring them in and they will dispose of them for you.
As well as e-waste recycling at Officeworks, you can also recycle the following items:
Printer cartridges
Mobile phones
Batteries
Pens and markers
How to practice sustainable living
In our everyday lives, there are many ways we can make better decisions to reduce our environmental impact.
Choose natural materials or upcycling
When choosing furniture and home décor items for your home, the most sustainable options are products made from natural woods. If natural woods aren't the aesthetic you're after, another option is to check our your local op-shop or by buying second-hand furniture. Upcycling furniture reduces land waste, saves you some money, gives your furniture some personality and can allow you to create the exact look you're after.
Grow your own vegetables
The cost of groceries adds up over time, so why not make it a household project and start your own veggie patch? If you don't have a lot of room, starting with a few pot plants of different herbs can make a difference!
If you're renting you can create a vertical garden that hangs up or use some sort of trough which sits up off the ground and can be moved around with you.
Recycle your containers to make some extra money
Thanks to the introduction of Containers for Change, you can take in most aluminium, glass, plastic, and steel for a 10c refund per container! If your container is eligible for the program, you will see a 10c recycling icon on the label or box.
When taking any containers in for recycling, ensure you have removed any labels and the inside is empty.
Not only is this program good for the environment, but you can also make some pocket money, or even donate to local charities taking part in the program.
Switch to smart home technology
If your budget allows it, we recommend making the switch to smart technologies that can help regulate your home's temperature. The logic behind this is simple: the greater control you have over the temperature, the less you'll have to use heating and cooling appliances.
A good place to start converting your home into a smart home is by making the change to motorised blinds! Motorised blinds can be installed inside or outside your home and are simple to use. They work by connecting to a Smart Home Hub which is a central device for all your blinds. One hub can pair up to 20 sets of blinds, which can then be controlled using a smartphone or smart home device over your home Wi-fi. One of the most popular options is motorised roller blinds. Roller blinds are a very versatile and affordable blind for your home. Motorised roller blinds can protect your rooms from harsh sunlight while still letting in the natural light when needed.
For more reasons why you should choose motorised blinds for your home, check out our blog post.
If you're after other ways to create an energy efficient home, head to our website!
Eco-friendly products for your home
Around your house you're bound to have many items that are single use. For example, makeup pads, Ziplock bags, or even produce bags if you've bought loose fruit and veg. These products all have a reusable alternative that will last you longer and is better for the environment.
Some great starting places for making the switch to reusable products are to:
Switch your plastic toothbrush for a bamboo toothbrush
Purchase reusable Ziplock bags or sandwich pouches which are made from an insulating material
Using reusable makeup pads instead of single-use pads
Keeping a set of mesh produce bags in your car when you do the grocery shopping rather than buying pre-packaged fruit and veg, or using plastic bags
Use travel or keep cups when you're purchasing a drink on the go!
Sustainable food options
When doing your grocery shopping, it's important to think about the items you're purchasing and their packaging.
When planning a sustainable food grocery shop, some things to think about include:
Does this item come in a non-recyclable package? Is there another options like bulk food stores, loose fruit and veg or recyclable packaging?
How much of this item do I really need so I'm reducing the amount of food waste?
Compost your food scraps
There are times where food waste is unavoidable, however there are ways you can still use it to have a positive environmental impact and reduce your carbon footprint.
Composting is the recycling of organic matter, such as food and garden scraps. These scraps can be fruit or veggie peelings, eggshells, wilted leaves, tea bags, over ripe fruit, garden leaves and more.
There are many benefits to composting your scraps instead of throwing them away. Composting is a great way to use any nutrients left over to naturally fertilise your gardens. Not only are you reducing landfill, but you're also reducing the amount of artificially produced fertilisers or growth chemicals added into your garden. It's also a lot safer for any kids or pets playing in the backyard!
Unplugging unused items around your home when you're out
When you're out of your house, sometimes it's good to keep a light or the TV on to make it look like someone is home, but there are alternative ways to manage your electrical products when you're out.
To start with, unplug any devices you don't need on. For example, the kettle, toaster, or lamp, and turn off any lights not in use.
To make your home look like someone is inside, you can set up your devices to be on timers so that they turn on and off at certain times. This is great for any lamps, a radio or TV. This way, you only have on devices for periods of time rather than the entire time you're not home, therefore reducing your electrical usage.
Swap your shower head
Did you know that showers make up 22% of total household water use? Cutting down on your shower time is a great sustainable living practice to take on board, as is switching to a water efficient shower head. By making the switch, your household can save up to 20,000 litres of water each year. If you can, try and aim for your showers to be between 5-10 minutes.
Avoid fast fashion
Fast fashion consists of cheap, poor-quality clothing that doesn't last long and is mass-produced for cheap labour. The idea of fast fashion is to keep up with what is trending, which in fashion, doesn't last long.
There are a few ways you can make a positive contribution, save money, and invest in quality clothing. By making positive changes you can reduce the environmental impact of the fashion industry.
Clothes swaps with friends or groups of interested people
Fashion rental stores – instead of buying a new outfit you might only wear once or twice, why not rent a piece?
Buy from thrift shops. Albeit this is not for everyone, op-shopping can be a great way to upcycle clothes or find brand new clothes with the tags on.
Buy pieces of clothing that are versatile all year round and can be made into different outfits.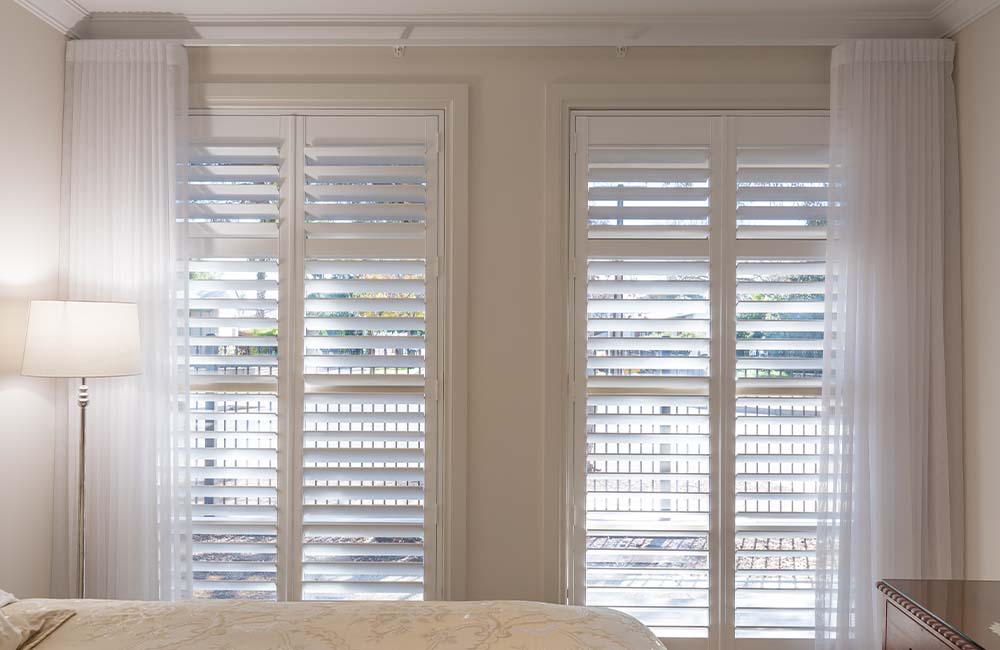 Recycling your blinds and curtains
If you're looking to buy new blinds, choosing timber, bamboo or aluminium blinds have the least impact on the environment.
Our aluminium Venetian blinds and aluminium shutters are ideal, as aluminium is a widely accepted material at Perth recycling facilities.
Bamboo blinds are also suitable for eco-friendly homes, as the bamboo biodegrades easily once thrown away. If you're after bamboo blinds, check out our Natural Wonders eco-friendly bamboo blinds as an option for your home.
You can learn more about recycling your blinds in our blog.
If you have old curtains, there are a few ways you can recycle them, depending on their condition. For curtains in a good condition, you can donate them to your local second-hand store otherwise, if your old curtains have seen better days, then it's best to repurpose or recycle them. To do this, do some research into what facilities are close by that accept fabric or textile donations. It's important to remember not to put fabrics in your general curb-side recycling bin, as fabrics aren't collected with your everyday recyclable products.
Did you know, there are some curtains you can purchase that are already made from recycled products and are therefore better for the environment. This includes our range of "Rejuvenate Recycled Curtains".
At ABC Blinds, we care about the impact of our products on the environment. These curtains are 100% recyclable and made from recycled polyester yarn. The yarn itself is made from recycled plastic products that would have ended up in landfill.
To find out more about our range of recycled curtains, check out our blog on Rejuvenate Acoustic Curtains and Recyclable Blinds.
Spread the word
The more people who choose to live a sustainable lifestyle, the greater the positive impact on our planet. Share your sustainable living tips with your friends, family, and even colleagues. You might be surprised by the power it can have. Even if only a few lifestyle changes are implemented, it all makes a huge difference.
Interested in making the switch to sustainable blinds for your home? Give us a call on 13 13 15, visit one of our Perth showrooms or arrange a free measure and quote with a highly-trained consultant in your own home.
All our blinds, curtains and awnings are made in Australia and are sold for the lowest prices in the market, guaranteed. Just bring in a quote on any competitor's comparable item and we'll beat it by 5%!
Book an appointment online now
Simply fill out the form below to arrange an obligation-free measure and quote, or to ask us any questions.