Top 6 outdoor awnings for summer sun protection
There's nothing quite like an Aussie summer and the days of endless sunshine it brings. But as nice as it is to enjoy the sunshine, the unrelenting sun can do some serious damage to your furniture and of course, your skin. So, if you're someone who enjoys outdoor living and you're looking for protection from the summer sun, then outdoor awnings and outdoor blinds are a fantastic solution. Keep reading to find out the top 6 outdoor blinds and window awnings to install.
Styles
Retractable Awnings
Retractable Awnings, also known as folding arm awnings, are an easy and affordable way to extend your outdoor living space. This style of folding awning is a cantilevered structure, constructed so that the awning cover and supporting frame retracts completely against the building.
If you're interested in canvas awnings, you can customise your retractable awnings with canvas fabric. After the installation of canvas awnings, the amount of sunlight that hits and enters the glass is significantly reduced, which will help to regulate the temperate inside your home and protect your indoor furnishings from fading.
Pivot Arm Awnings
These awnings are perfect for circulating airflow and reducing direct sunlight in the home. This style is best suited for verandas, doors and upper floor windows that require frequent and easy access, as the design projects the awning away from the building. Once Pivot Arm Awnings are installed outside your home, you can enjoy heat, glare and UV protection, in addition to increased airflow throughout your home.
Auto Awnings
Get your home ready for summer with one of the most popular outdoor systems in WA. Auto Awnings can be fixed to most windows for maximum sun protection and can be easily raised or lowered to any position simply by sliding the arms on the guide rods. This style of window awning is an ideal choice for ground floor or balcony windows, as they reflect heat and help to make your home much cooler during the warmer months.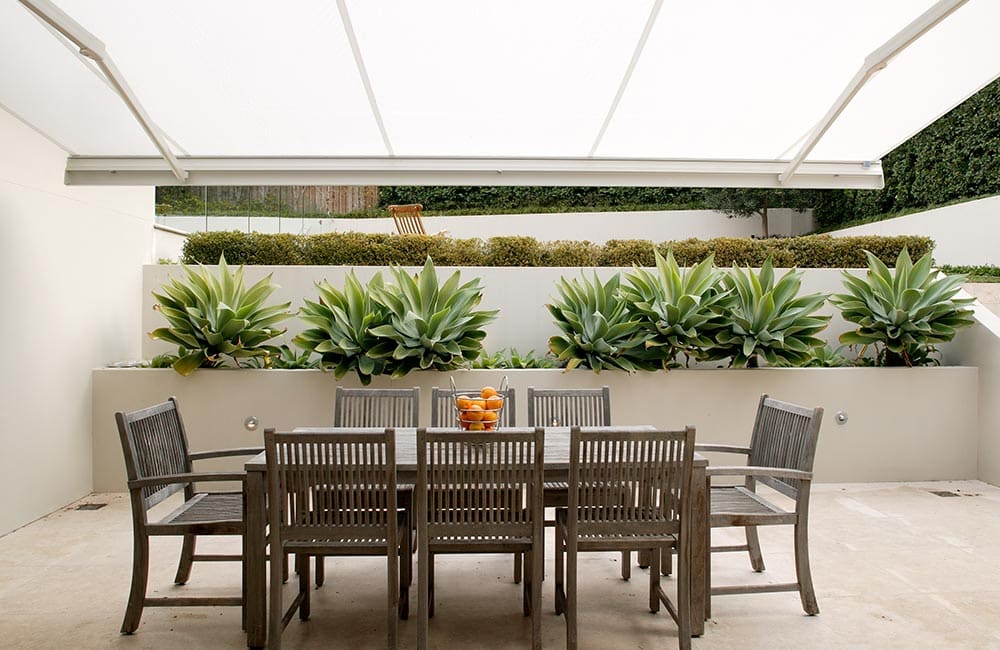 Wire Guide Awnings
These sturdy window awnings get their name from the stainless-steel wire cable which guides the awning up and down, ensuring there is controlled movement. Wire Guide Awnings are strong, practical and incredibly stylish, offering protection from the elements all year round.
Patio Blinds
If you're looking for a patio awning or café blinds, these blinds are the perfect choice. Made from clear or tinted PVC, patio blinds won't compromise your view. Once installed, each panel joins together to form a protective barrier between you and the elements. Enjoy time outdoors without the wind, rain or glare being an issue.
There are three model types of patio blinds: rope and pulley, retractable and wire guide. Rope and pulley systems are easy to use; retractable systems can be either spring-assisted or motorised; and wire guide systems are available with a simple manual crank or an efficient motor. You can find out more about each of the style here.
Windmaster Blinds
If you're looking for WA-designed awnings, look no further than Windmaster Awnings. These window treatments are great for creating shade and securing your outdoor area, thanks to their heavy-duty design. They can also reduce up to 94% heat in your home, which makes a significant difference during the scorching hot summer months.
Colour
Once you've selected the right style of outdoor awning for your home, it's important to consider the colour. There's a trend at the moment to coordinate awning colours with your house's exterior, for ultimate curb appeal. Beyond appearances, it's important to note that the colour of the awning will impact the heat and glare. Darker colours are best for reducing glare, whereas lighter colours are more effective for heat control.
Operation
As the option to motorise window treatments becomes more affordable, electric awnings are becoming increasingly popular. ABC's Smart Home Hub gives you the ability to lower your awnings at any time of day, which can make a huge difference to your summer cooling bills. You can find out which outdoor blinds and awnings can be motorised here.
Like to learn more about our Perth-made outdoor blinds and awnings? Give us a call us on 13 13 15, visit one of our Perth showrooms or arrange a free measure and quote with a highly-trained consultant in your own home.
All of our blinds, shutters, curtains and awnings are made in Australia and are sold for the lowest prices in the market, guaranteed. Just bring in a quote on any competitor's comparable item and we'll beat it by 5%!
Book an appointment online now
Simply fill out the form below to arrange an obligation-free measure and quote, or to ask us any questions.