Thinking Child-Safe When Choosing Blinds
Child-proofing your home can be a challenge as there are so many product options designed to keep them safe! When you're choosing child safe blinds, there are a few things to consider. Here's our guide on how you can choose the right child-friendly blinds for your home!
Create a Safe Space for Kids
Your home should be a haven; a place where kids are free to explore and wander, protected from harm. As a family-owned and operated business, providing safer products for families like yours is our top priority. Even the most vigilant parent can't keep their child out of harm's way every second of every day, but by selecting child-friendly products for your home, you significantly reduce the risk of serious accidents.
Child safe blind options and recommendations have been designed to give you peace of mind, knowing your home is as safe as possible for your family, without compromising on practicality, quality, or style.
Install our child-friendly range
You know as well as we do, when it comes to the safety of your family, it's never worth taking risks. When you choose a child-safe blind, you're creating a much safer home environment.
While there are many options to choose from when purchasing child-friendly blinds, our top recommendations are Roller blinds, Vertical blinds, Motorised blinds, and curtains.
Roller blinds
Roller blinds are a very popular blind option due to their affordability and versatility. Roller blinds are available in blockout and sunscreen fabrics as well as a variety of patterns if you're looking for something a bit more fun!
Blockout Roller blinds are a great option for insulating your home. They preserve the heat in winter and keep your home cooler in summer. These blinds are suitable for any room in your home but are best suited to rooms such as a nursery or living area where a darkened space is preferrable.
Sunscreen Roller blinds are a great option for any rooms in direct sunlight which are prone to getting quite warm. These blinds are made with fabric that helps to block harmful UV rays, protecting your skin as well as your furniture from fading.
Roller blinds are also versatile in the way they can be opened and closed. The great thing about these blinds is that there is an operating system option to suit your needs and budget. You can learn more about the operating system options for Roller blinds in our blog!
Vertical blinds
Vertical blinds are another great option for your home, as they are very affordable and available in many different styles. The added benefit of Vertical blinds is that they have options to make them safer for children, such as removing chains at the bottom of the blind slats as well as replacing the opening chain mechanism with a wand.
Another benefit of Vertical blinds is their ability to stay clean (a bonus around kids), as they are made from a material that's easy to keep clean and can be wiped down when needed.
To learn more about these blinds, head to our complete guide to Vertical blinds blog article.
Motorised blinds
Motorised Blinds (also referred to as electric or automatic blinds) are one of the safest window treatment options to install when you have children, as they completely replace the need for any dangling or loose cords. Motorised blinds can be controlled by a motor that's connected to a Smart Hub Device, which can then pair with your smart phone or smart home device, such as a Google Home or Alexa. Up to 20 sets of blinds can be paired with one device, making it possible to have every room in your home child-proof!
Motorised options are available for a wide range of indoor blinds, including:
Motorised Roller blinds are one of the most popular electric blind options due to their versatile nature.
Curtains
Curtains are another great option for choosing child-proof window coverings. With many styles to choose from, curtains can have the same effect as blinds. The most common curtain options are Blockout, Sheer and Linen.
Blockout curtains are a great option for making a room darker when needed, such as for a theatre room.
Linen curtains are great for adding extra light control to a room as well as being more stylish as they are available in a wide range of fabric options.
Sheer curtains are made from an incredibly light fabric and are great for adding an extra layer of privacy while letting in an abundance of natural light. If you're not sure how to style sheer curtains, check out our blog!
The best thing about curtains is many of them can be manually pulled across the track without a dangling operating mechanism, making them a safe option for children.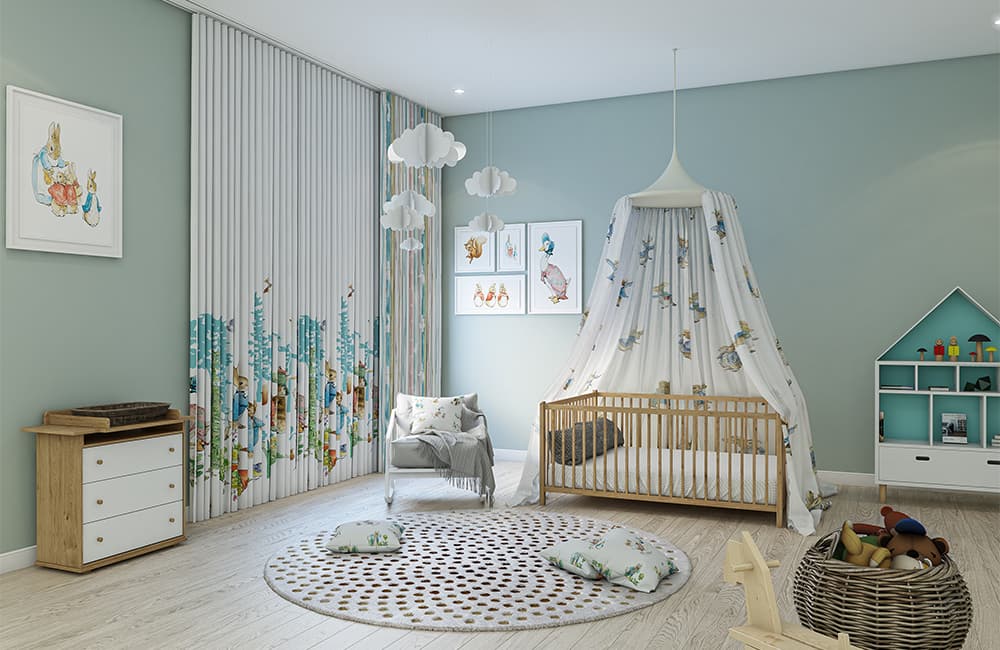 Child-friendly blind operating mechanisms
There are many ways you can choose child-friendly options for your blinds or make improvements to their safety.
The Securo Wand

The Securo Wand is a specialised operating system option for Roller blinds, designed with the intent of providing a child-friendly alternative to traditional long chains, or rope operating systems. This mechanism consists of a tight chain that's completely secured to the wall with a clip that the chain glides on. This clip prevents any curious children from potentially getting stuck in the chain and hurting themselves. This chain is a lot shorter than other typical options, making it a much safer option for kids.

Plastic wand

Choosing a plastic wand instead of a chain is another operating alternative for your blinds. A standard wand is child safe as there is no looped cords or small pieces. It's also a lot shorter than a chain, making it much harder for children to play with.
Keep your windows clear
Anyone with a toddler knows they love climbing up on everything, so it's wise to keep cots, beds, and furniture well away from windows, to stop little hands grabbing anything unsecured. The same goes for toys and play areas. Try putting their play mat and toys in the centre of the room if you can, so babies and toddlers can't see or reach the cords easily.
We meet International Child Safety Standards
When you're purchasing blinds from us, you can rest assured knowing that all ABC Blinds meet International Child Safety Standards.
To arrange a free measure and quote with a highly-trained consultant in your own home, give us a call on 13 13 15 or fill out this simple online form. We provide this service to a wide range of locations around the metro and select regional areas, 6 days a week between 8am and 6pm.
The majority of our blinds, curtains and awnings are made in Australia and are sold for the lowest price in the market, guaranteed. Just bring in a quote on any competitor's comparable item and we'll beat it by 5%.
Book an appointment online now
Simply fill out the form below to arrange an obligation-free measure and quote, or to ask us any questions.