Guide to Pet Safe Blinds
Pets are part of the family and keeping them safe should be top priority! Window coverings can be very tempting for curious pets, so when you're on the hunt for new ones, there are some things to consider. Keep reading to find more about pet proof blinds!
What to consider when choosing the best pet proof blinds
Cord length
Dangling cords from window coverings can be very tempting for curious pets to want to play with. When choosing new coverings, it's best to find options with a shorter cord, or something with a wand operating mechanism, as that's something pets can't get caught in or latch onto.
If your blinds do come with a cord, there is a control option called the Securo wand. This was originally designed as a child safety mechanism, where the blind cord is secured to the wall, rather than hanging freely.
Scratching
Pets can have sharp claws, and if you have an animal who loves clawing things, more durable blinds are the way to go.
Window height
If you have a high window, it's not as much of a concern deciding on which window covering is best, however for any windows low enough for pets to reach, be very mindful of every aspect of the blind.
To gauge if a window covering is suitable for your pet, you have the option of going into an ABC Blinds showroom to see for yourself. This helps you visualise the placement of the slats, fabric, and to see the control options in person. You can also have a chat with our team, and they can help you find the perfect pet safe option.
What makes a good pet safe blind?
Cordless
The safest blind control option for use around pets is choosing a cordless blind. This could be in the form of a motorised blind, or a control option that's a wand instead of a looped cord.
This reduces the temptation for pets to want to play with the cord, and possibly get caught in it (which is still unlikely, but it gives you peace of mind).
Made from non-toxic materials
At ABC Blinds, all our blinds are made from non-toxic materials and fabrics!
Fits within the window frame and not outside of it
Blinds and other window coverings which fit within your window recess are known as 'recess fit' blinds.
Recess fit blinds are a great option for pets as these fit completely within the window frame and don't have any sections hanging out, removing the opportunity for pets to latch on to the blinds.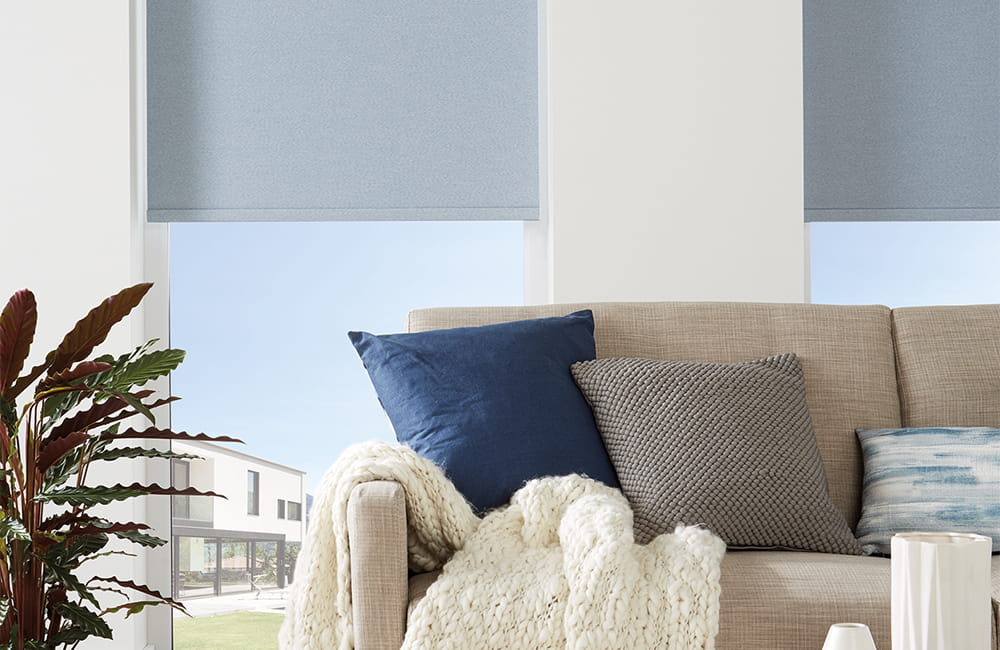 Best pet safe blind options
Vertical blinds
Vertical blinds are another pet safe blind option to consider for your home, for a couple of reasons.
These blinds are made up of thin vertical slats, making them hard for pets to cling onto. Verticals also have a wand control option rather than a cord, for added pet safety.
Timber-look blinds
Timber-look blinds are a great option for pets, as they are made from PVC rather than actual timber, making them a more durable option. Timber is easily scratched and will clearly show any scratches from pets. Whereas PVC is more resistant to claw marks from your curious friends.
The most common timber-look blinds are timber-look Venetians.
Eve MotionBlinds
Eve MotionBlinds are a motorised Roller blind, eliminating the use of a traditional cord for rolling them up and down.
Instead, these blinds are controlled with a smartphone, meaning that pets cannot be tempted with cords, because there are none.
SmartHub blinds
If you're after a smart blind option that isn't a Roller blind, the SmartHub could be right for you.
This motorised blind system can allow you to connect up to 20 sets of blinds throughout your home to one central device. This means you can control all your blinds without having manual blind controls, eliminating pet temptations.
Roller blinds with the Securo wand control option
Roller blinds have a few control options, one being the Securo wand.
The Securo wand is an operating mechanism originally designed with child safety properties in mind, however it could be a great option for pet owners as well!
This operating option has a cord which is secured to the wall, so it's much harder to get caught in it.
As Roller blinds are a full fabric blind, it's best to only choose these blinds if the window is placed high off the ground. Lower windows make for easier to reach fabric, which pets can claw.
Blinds to avoid having with pets
Timber blinds
While timber blinds are a modern and classic blind finish option, we don't recommend installing them in rooms where pets can access.
Timber blinds are more delicate than other blind materials, aren't as scratch resistant and can be expensive to replace.
As we mentioned earlier, if you want the look of timber blinds, opt for a timber-look blind instead!
Fabric options
When looking for pet proof blind options, avoiding fabric blinds can be a good option. Solid fabric panels can be clawed more easily than other blinds and can be pulled down if your pets' claws get stuck.
If your windows are high enough off the ground, this isn't so much of a problem, however if you have a very agile cat, or a dog with a high jump, it's best to choose other blind options.
Cleaning your blinds
Cleaning your blinds should be part of your regular house-cleaning schedule, however it's also important to do a comprehensive clean every so often, especially when you have pets.
Read through our blog to find out more about cleaning your blinds.
To arrange a free measure and quote with a highly-trained consultant in your own home, give us a call on 13 13 15 or fill out this simple online form. We provide this service to a wide range of locations around the metro and select regional areas, 6 days a week between 8am and 6pm.
The majority of our blinds, curtains and awnings are made in Australia and are sold for the lowest price in the market, guaranteed. Just bring in a quote on any competitor's comparable item and we'll beat it by 5%.
Book a FREE Measure and Quote now
Simply fill out the form to book an appointment for an obligation-FREE measure and quote, or to ask us any questions.
Which product are you interested in?
Next is we need to know your address for us to select the nearest consultant in your area.