Guide to Office Blinds, Shutters, and Curtains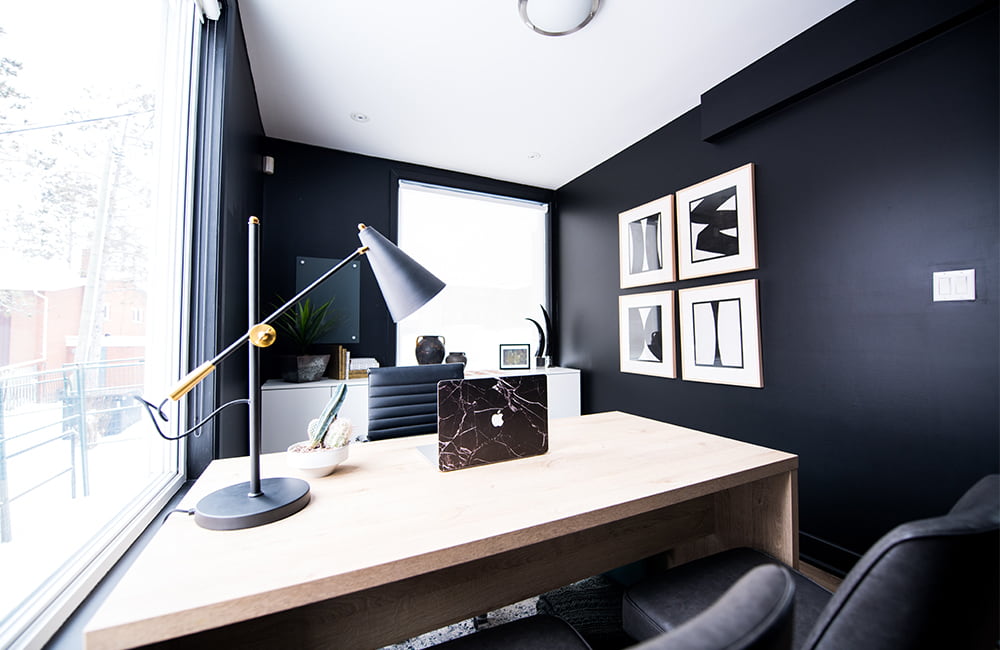 With many people having the option to work from home, ensuring you have the right lighting and window coverings in your office is a must. Too much incoming light may create glare on your computer screen and too little lighting can strain your eyes. We're here to help you find the perfect balance!
Choosing the best blinds and curtains for your office
If you have a smaller window, you have a bit more flexibility in choosing window coverings. Smaller windows with less incoming light don't need so much light control, so blind options like Roller blinds or Roman blinds can work well!
If you have larger windows with the potential for a lot of incoming light, blinds with slats like shutters or Venetian blinds, are great options as they can filter out make it easier to direct the light where you want it.
Benefits of office blinds
Reduce on-screen glare
Direct sunlight can be a joy in the comfort of your own home, but in an office environment, it can be disrupting. One of the main reasons why office blinds are installed is to minimise screen glare, so that you can continue to work efficiently throughout the entire year.
Helps increase energy efficiency
With window coverings installed, you'll save money on your electricity bills!
Indoor office blinds help to insulate the windows, preventing sun (and therefore heat) from entering the room. As a result, the need for air conditioning reduces, saving you money. Plus, as a result of less sunlight entering the space, your office furniture will also be protected from fading and discolouration over time.
Can boost mood
It's been suggested that having regular access to sunlight can boost your mood! While you might be stuck in an office most days, you can still have some sunshine while maintaining productivity with the right blinds.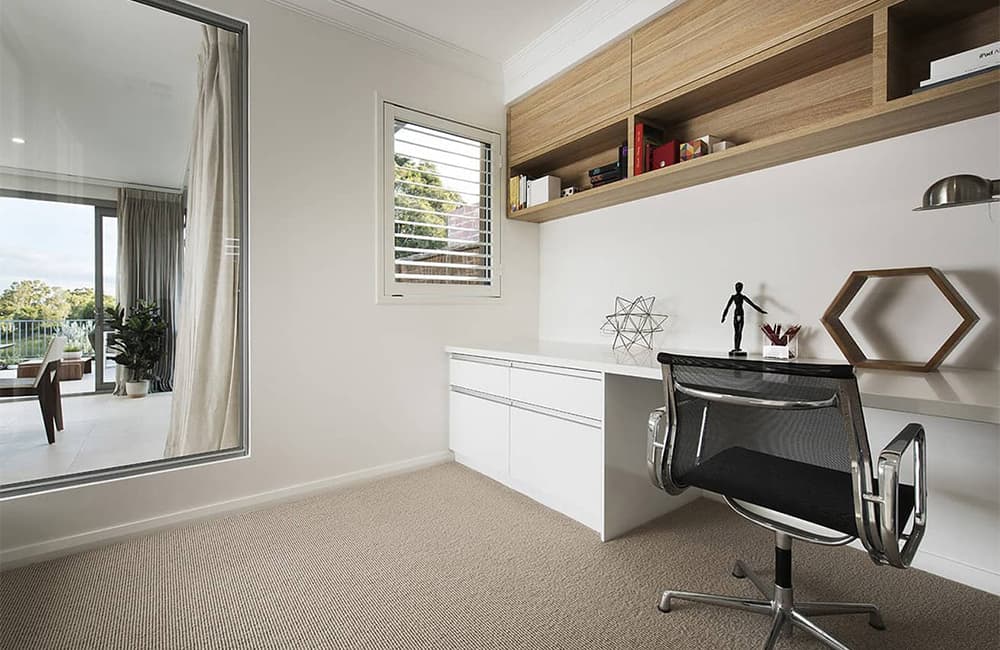 What type of blinds are best for offices?
While there are many types of indoor blinds to choose from, not all blinds are recommended for an office environment. Keep reading to find out our top picks.
Venetian blinds
Venetian blinds are made of thin horizontal slats, which can be angled to direct or block incoming light. The main benefit of these blinds is that the angling of the slats can be incredibly precise, giving you plenty of control of where your light is being directed.
Venetians are also one of the most affordable blinds on the market, however, this isn't an indication of their quality and usefulness.
These blinds have many benefits, the biggest being that they maintain coverage while your blinds are open, as the slats still give you privacy while allowing plenty of light to fill your room.
They're also available in a range of materials, including aluminium, timber, and timber-look.
Double Roller blinds
Double Rollers are made from two sheets of fabric and often combine two different fabric types, doubling their functionality.
We recommend choosing a combination of sunscreen and blockout fabric for your Double Rollers. The sunscreen fabric shade will reduce glare during the day without disrupting your view whenever you feel like gazing out the window for a change of scenery.
These blinds also offer great amounts of privacy as you can still have one fabric rolled down while the other is rolled up, letting in much more natural light!
Roller blinds
Office Roller blinds are one of the most economical window blinds you can buy. With a single roll of fabric that can be hidden in a sleek, stylish headbox, these blinds can blend in seamlessly in any setting.
We recommend customising your blinds with sunscreen fabric, as it helps to reduce heat and glare without disrupting views.
Vertical blinds
If your office has large windows or sliding doors in need of coverage, Vertical blinds are the perfect choice.
Vertical blinds are great for preventing on-screen glare and controlling privacy. Plus, they can also be used to divide a room for a much more affordable price than the cost of constructing office partitions or renovating.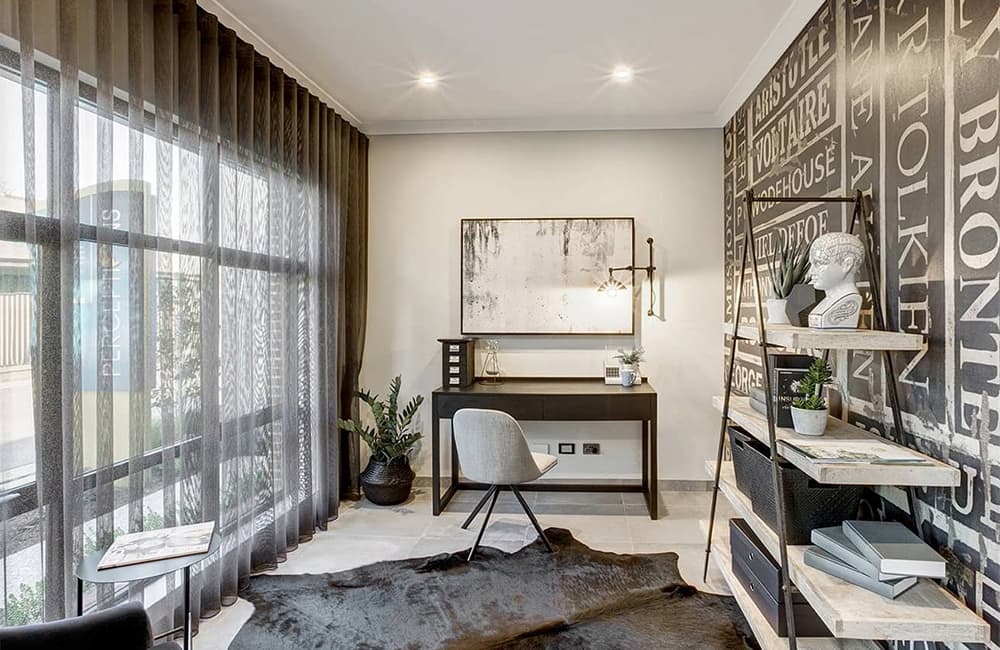 Curtain options for your office
If you don't like the idea of office blinds, why not consider a curtain option instead.
Vertisheers
Have you heard of Vertisheers? This is a unique product which can be considered both a curtain and blind in one.
Vertisheers have the functionality of a Vertical blind, with the look and feel of a sheer curtain.
Office blinds paired with sheers
A popular window covering option is to pair blinds with curtains, in particular, sheer curtains.
Sheer curtains are made from a translucent fabric, making them only partially see through, and a great addition to hang over blinds as they help to light filtering while adding privacy to your office.
Sheers can also help your space feel more elegant and larger, especially if they are hung above your windowsill.
Office shutters
Another great window covering option for your office is indoor shutters. There are many types of shutters available, including different material options and styles. Two popular options are:
Aluminium shutters
Aluminium shutters are a stylish and versatile window covering which offers great privacy and light control. These shutters are available in a range of colours (not just your standard aluminium silver-grey), and are one of the most durable blind options from our range.
Basswood shutters
For a more upmarket look, basswood shutters can add that extra bit of elegance to your home office. These shutters give you plenty of light control, and a natural look to your décor.
Cleaning office blinds
Cleaning office blinds is no different to cleaning other blinds in your home.
Making cleaning your window coverings part of your regular cleaning schedule can help them to look nice and new for longer, as well as reduce the build-up of dust or other particles.
The best way to clean them is to regularly wipe them over with a cleaning cloth or duster.
If they need a deeper clean or have a dirty mark on them, you can use a cloth dampened with soapy water to dab over the dirty spots. Make sure not to use too much water as it takes longer to dry and might drown the fabric.
For more cleaning tips, visit our website!
Interested in new office blinds for your home or commercial office? To arrange a free measure and quote with a highly-trained consultant in your own home, give us a call on 13 13 15 or fill out this simple online form. We provide this service to a wide range of locations around the metro and select regional areas, 6 days a week between 8am and 6pm.
The majority of our blinds, curtains and awnings are made in Australia and are sold for the lowest price in the market, guaranteed. Just bring in a quote on any competitor's comparable item and we'll beat it by 5%.
Book a FREE Measure and Quote now
Simply fill out the form to book an appointment for an obligation-FREE measure and quote, or to ask us any questions.
Which product are you interested in?
Next is we need to know your address for us to select the nearest consultant in your area.