Entertain This Summer Using Outdoor Shutters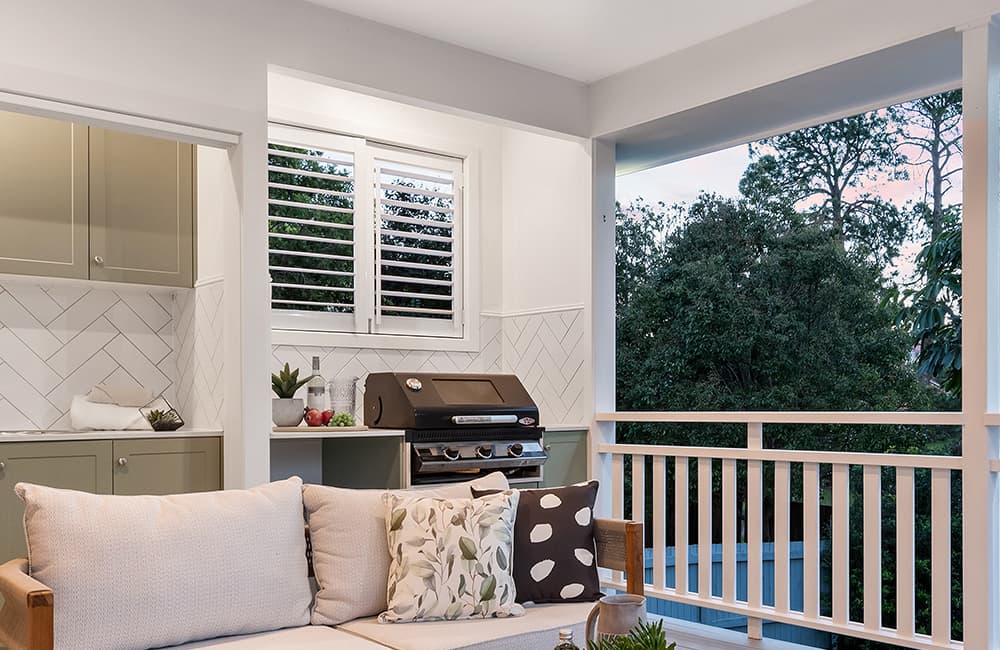 Outdoor shutters are one of the best window coverings for your home for many reasons. They're long lasting, add value to your home, and provide many benefits for helping to create a comfortable area. Find out more about outdoor shutters in our guide.
Spending time outdoors is a big part of Australian culture. When it's time to open your doors, dust off the barbecue, gather your friends and family, and take the party outside, how do you make sure your alfresco area is summer-ready?
The simple answer? Outdoor shutters!
Are outdoor shutters outdated?
Outdoor shutters (also referred to as external shutters) are definitely not outdated, and are a great option for your home, both in functionality and aesthetic appeal.
With a modern look and different colour options, outdoor shutters can look great and work well in your patio area.
Why install outdoor shutters over other window coverings?
Outdoor patio shutters are a very versatile product that not only look great but can help to create a more comfortable outdoor area, complete with shade, plus heat and wind protection.
Types of outdoor shutters
Aluminium
Aluminium shutters are one of the most popular outdoor window covering options, due to their long-lasting and durable nature. These shutters are a great option as they can withstand the heat, wind, and rain.
Bi-fold
Bi-fold shutters are made up of multiple shutter panels which can slide to create a flat panel, and open up a space.
These shutters are a great option for giving your outdoor area added privacy as when they're shut, they act as a privacy screen and enclose that space.
Hinged
Hinged outdoor shutters are more used for coverage on windows or a half wall on your outdoor patio or alfresco area. These shutters open out on a hinge, allowing you to have more of the view or airflow if desired.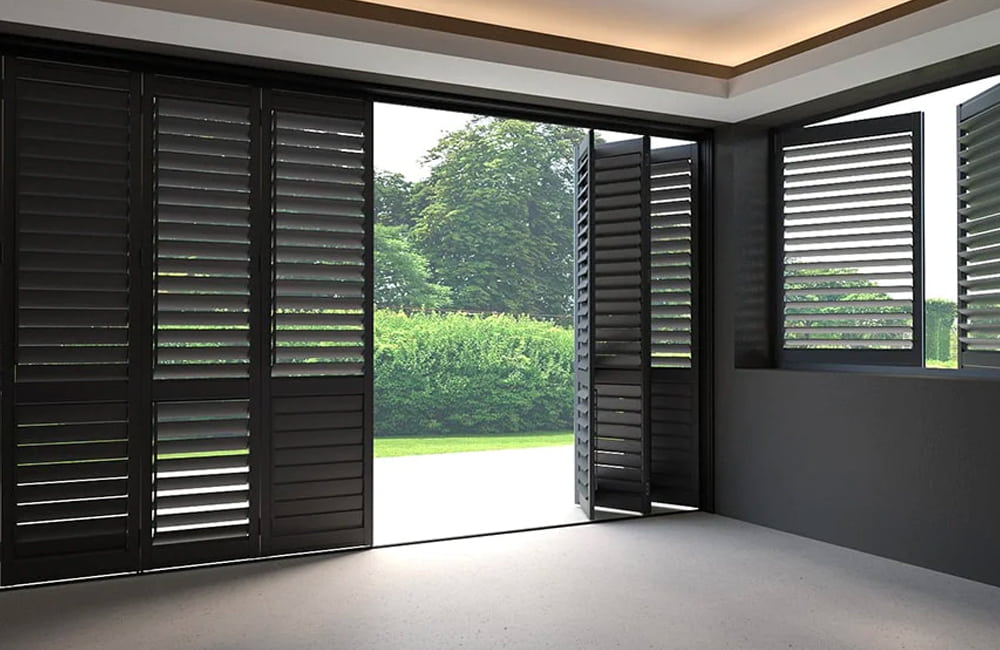 Benefits of choosing outdoor shutters
Reduce the heat
Outdoor alfresco shutters are one of the easiest ways to reduce the sun's heat and potentially harmful UV rays so you can still enjoy time outdoors, even in the middle of a typical Perth summer.
Their functional design means you can adjust the slats to allow as much light, ventilation, and heat in as you like. Outdoor shutters will also keep things much cooler all day long.
Effortless style
Outdoor shutters have an amazing way of turning a bland backyard into a cool, comfortable, and stylish area.
Choose from a range of classic or contemporary colours to match your outdoor décor.
You'll be sure to receive plenty of compliments once they're installed!
Learn more about all the different styles in our complete guide to shutters.
Durable and low maintenance
Designed to be robust and weather-resistant, outdoor alfresco shutters will hold up against the sun's UV rays, as well as winter's wind and rain.
Plenty of privacy
Privacy can often be lost when you're entertaining outside. Suburban houses are close together, neighbours can sometimes see over fences, and it's easy to hear what's going on with the people next door.
That's where outdoor patio shutters are great! With these exterior window treatments installed, you can keep your curious neighbours out of the conversation.
Simply rotate the adjustable blades until they're closed to keep prying eyes out and the noise of your gathering in!
They can also be used as doors, helping to create more of a semi-enclosed kind of entertaining space.
How to clean outdoor shutters
Keeping your external shutters clean is so important, as it means they're more likely to last and stay looking new for longer.
Cleaning doesn't need to take up a lot of time. By creating a regular schedule, it can make the process simple and not a hassle to do.
Find out about how you can clean your outdoor shutters in our blog.
How much do outdoor shutters cost?
Outdoor alfresco shutters are one of the more expensive window covering options for your home, however they are considered to be a solid investment.
By investing in a long lasting window covering and keeping up with their maintenance, they are an asset to your home, particularly if you're thinking of selling at a later date.
To arrange a free measure and quote with a highly-trained consultant in your own home, give us a call on 13 13 15 or fill out this simple online form. We provide this service to a wide range of locations around the metro and select regional areas, 6 days a week between 8am and 6pm.
The majority of our blinds, curtains and awnings are made in Australia and are sold for the lowest price in the market, guaranteed. Just bring in a quote on any competitor's comparable item and we'll beat it by 5%.
Book a FREE Measure and Quote now
Simply fill out the form to book an appointment for an obligation-FREE measure and quote, or to ask us any questions.
Which product are you interested in?
Next is we need to know your address for us to select the nearest consultant in your area.