From the look and feel to the cost and practicality, there are a number of things to take into consideration before buying blinds. Plus, with so many different styles in the market, it can make the decision ever more difficult! That's where we come in. Keep reading below and you'll soon be able to tell your rollers from your Romans and your visions from your verticals!
Indoor Blinds
What are roller blinds? Roller blinds are one of the most economical blinds you can buy. They feature a single roll of fabric that can be rolled up or down to increase levels of light or privacy.
Room best suited to: These versatile blinds can be installed in pretty much any room of the house, providing the window isn't street-facing. Rollers let in plenty of natural light, so we'd recommend them for living areas and kitchens.
What are double roller blinds? These blinds, also known as dual roller blinds, feature two layers of fabric than can be independently controlled in one stylish roller system.
Room best suited to: Double rollers with a blockout and sunscreen fabric layer are an excellent choice for bedrooms or living areas that require privacy. The sunscreen layer will provide privacy and filter light, while the blockout layer will completely darken the room when required.
What are Roman blinds? Roman shades are similar in appearance to roller blinds, as they feature a single layer of fabric that can be raised or lowered. However, Romans have a unique, fold-up design that adds an air of sophistication when the blinds are up or down.
Room best suited to: Romans are often installed to increase privacy, as they don't have slats that passers-by can look into. This makes them a great solution for bedrooms, living rooms and dining rooms. Choose a light-filtering fabric like sunscreen for more natural light, or a blockout fabric for greater protection from harsh sunlight.
What are vertical blinds? As the name suggests, vertical window blinds feature vertical panels of fabric that can be adjusted to control light and privacy. These blinds are one of the most popular styles due to how practical and affordable they are.
Room best suited to: Vertical blinds are a popular choice for patio doors and large floor-to-ceiling windows as they can be pulled to either side easily (like curtains).
What are vision blinds? Also known as day and night blinds or zebra blinds, vision blinds offer the best of both worlds. This style is relatively new to the market, combining the function of a roller blind and venetian blind in one. The design features two different layers of horizontally striped fabric which work in harmony to filter light or block it out completely.
Room best suited to: Vision blinds are best suited to lounge rooms, theatre or movie rooms, offices and computer rooms as they help to reduce a significant amount of glare.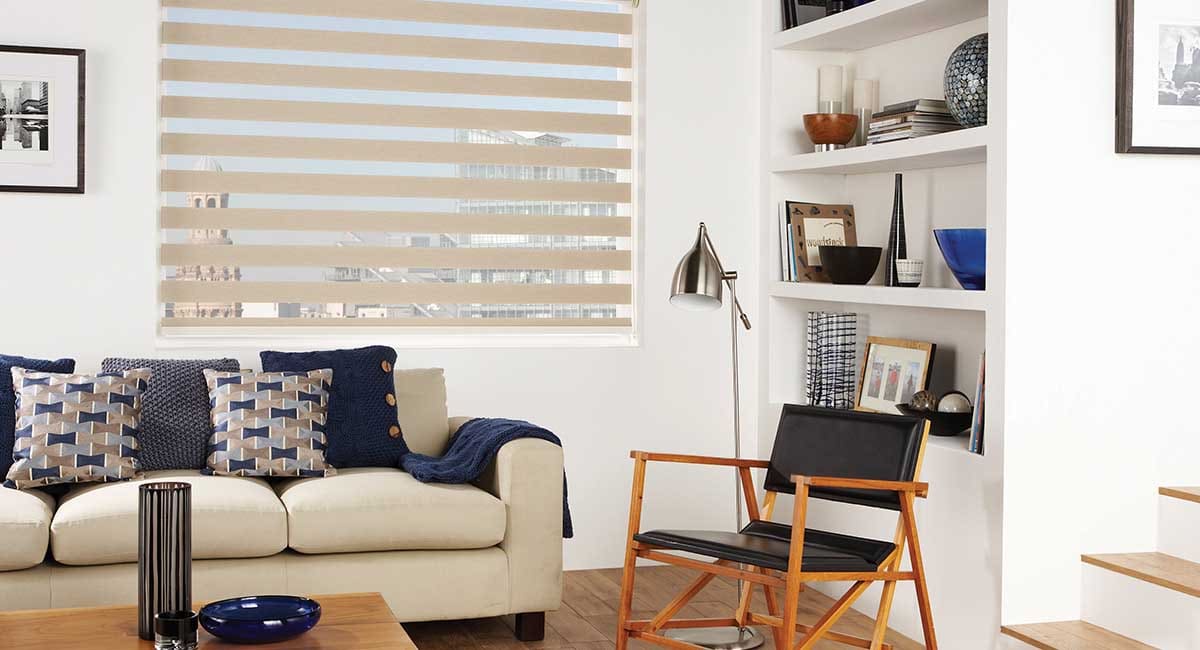 What are panel blinds? These modern blinds are crafted from flat fabric panels, which are attached to a simple head-rail system using roll-mounted carriers. As they're opened and closed, the panels stack neatly behind one another. Once the panel blinds are drawn, they create a fabric screen which can block out harsh light and offer more privacy.
Room best suited to: Panel blinds are ideal for any rooms with large windows, like living areas. They can also be mounted to the ceiling and used as a cost-effective room divider, which offers an alternative solution to building or removing walls in the home or office.
What are wood weave blinds? While these blinds function and look somewhat similar to Roman blinds, they're made from an eco-friendly combination of bamboo, reeds, jutes and grasses (rather than fabric). To operate, simply pull the child-safe cord.
Room best suited to: These eco-friendly blinds make a great addition to dining rooms and living areas. The natural weave the blind offers privacy when lowered, but also allows light to softly filter though. Wood weave blinds can also be lined with a blockout fabric layer to function in rooms that require total darkness (e.g. bedrooms or nurseries).
Outdoor Blinds
What are patio blinds? These exterior blinds are popular in both residential and commercial settings, as they offer protection from the elements in alfresco areas. We offer outdoor canvas blinds and outdoor acyclic blinds, but the most popular style is PVC blinds, which offer an uninterrupted view of the outside world.
Best suited to: Patio blinds are ideal for any alfresco area, such as patios, verandas and pergolas. Once installed, they help to block wind, rain and harsh sunlight, to make the outdoors more comfortable.
What are Titan blinds? Titan blinds are Australia's first outdoor blinds with a magnetic retention system. Their design features pairs of neodymium magnets in the side channel and screen guides, which act as a powerful pull force to keep fabric taut no matter how wild the weather gets!
Best suited to: These external blinds should be your go-to blind if you live anywhere that experiences strong winds or wild weather. Titans are made from fibreglass sunscreen fabric, which is incredibly resistant to tears or other damage, including damage caused by extreme temperature variations.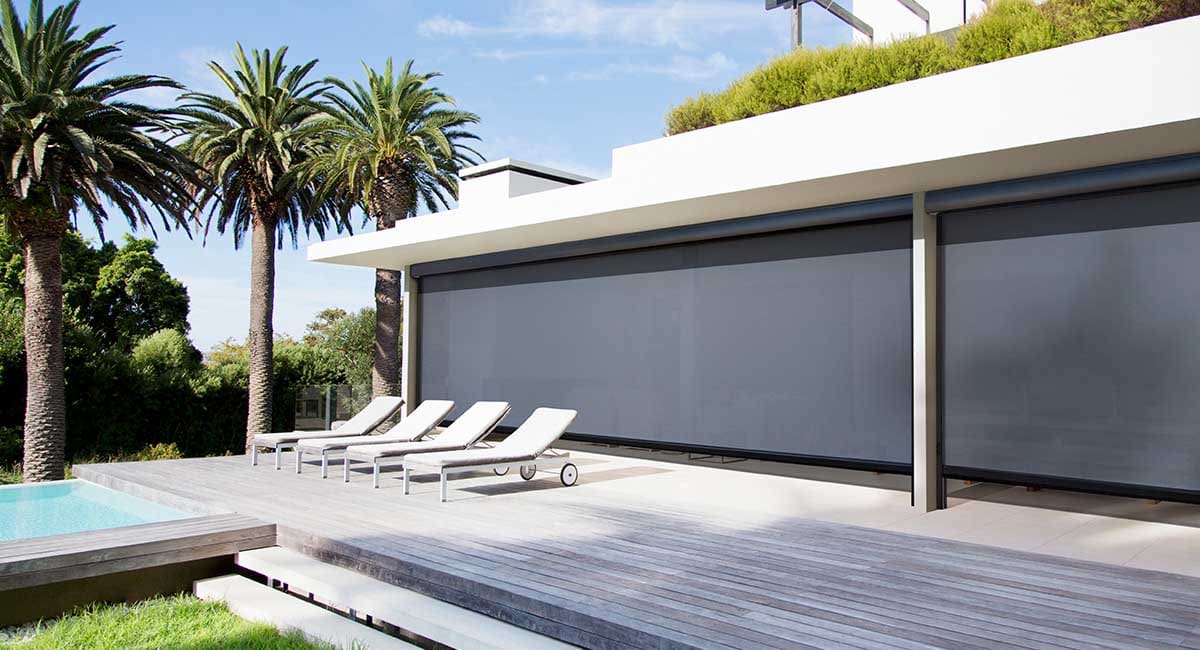 What are Windmaster blinds? Windmaster is a style of blind designed to withstand WA weather. The blind features heavy-duty base rails, locks and heavy-duty channels to minimise fabric movement and hold up against strong winds, which is perfect if you live near the coast!
Best suited to: Any outdoor area that needs protection from the wind.
What are Zipscreen blinds? Zipscreens are a modern external shade system that provide protection from the elements all year 'round. The patented zip-lock technology can turn any outdoor area into a comfortable new room that's sheltered from the sun, wind and rain.
Best suited to: These blinds have been designed for installation over patios, pergolas, verandas and balconies. They're also well-suited for home and office windows as they offer a more durable alternative to traditional outdoor window awnings.
Like to learn more about our huge range of blinds? Give us a call us on 13 13 15, visit one of our Perth showrooms or arrange a free measure and quote with a highly-trained consultant in your own home.
All of our blinds are made in Australia and are sold for the lowest prices in the market, guaranteed. Just bring in a quote on any competitor's comparable item and we'll beat it by 5%!