Bohemian Interior: Boho Style Blinds
Leave the ordinary out and bring bohemian in with our range of bold blinds and curtains.
Looking to update or create your boho home? Whether you're embarking on a large-scale home renovation or just giving your indie room a refresh, here's how to leave the plain and ordinary out, and bring the colourful, bohemian style in.
Defining bohemian style
Bohemian style, commonly referred to as 'boho', is a bright, patterned and utterly unique style that can be applied to interior design. In order to achieve the look, no element should be too 'perfect' or put together, to ensure that no two interiors are alike. However, while most bohemian-styled spaces will look completely different to one another, there are some visual themes and styling choices that tend to be consistent.
Boho Interior Tips
Different textures
When it comes to bringing the bohemian vibes to your home, texture is everything! Items like thickly woven rugs, rattan furniture and textured artwork can add visual intrigue, as can curtains or blinds. By layering multiple window treatments, you can enjoy the practical benefits of heat, light and privacy control. We recommend pairing sheer curtains with blockout roller blinds for an interesting layered look. After all, all the blinds in your home don't have to match!
Wood furnishings and fixtures
A collection of wooden furniture or furnishings can be commonly found in boho homes. So naturally, wooden shutters are a great match for this interior style. Traditional plantation shutters like our basswood shutters will help create that bohemian vibe whilst being a great back drop for all your carefully selected pieces.
Bold, bright colours
When it comes to bohemian decor, bright colours and bold hues are a popular choice (the bolder the better). There's nothing quite like the power of colour to breathe life and bring energy into a room. You can incorporate striking shades into your bohemian home in many different ways, from the dining set on your table to the coverings over your windows! If you'd like to inject colour into your home via the window treatments, vertical blinds are available in a variety of eye-catching colours.
Boho blinds and boho curtains Modern with a twist
When it comes to blinds with a modern twist, you can't go past the effortlessly stylish panel blinds. Available in plain or printed fabric, these blinds are bound to make a statement in your home. Choose from striking paisley or Marrakesh prints in a bold hue for maximum boho impact. Or, opt for earthier tones if you're after a low-key boho look.
Stylish yet Subtle
Roman blinds are the perfect choice for relaxed, minimalistic boho style in earthy, neutral tones. The clean lines and simple style of Romans make them a simple, subtle option that carry just the right amount of effortless boho style. Choose from a range of stylish colours and practical fabrics for your home.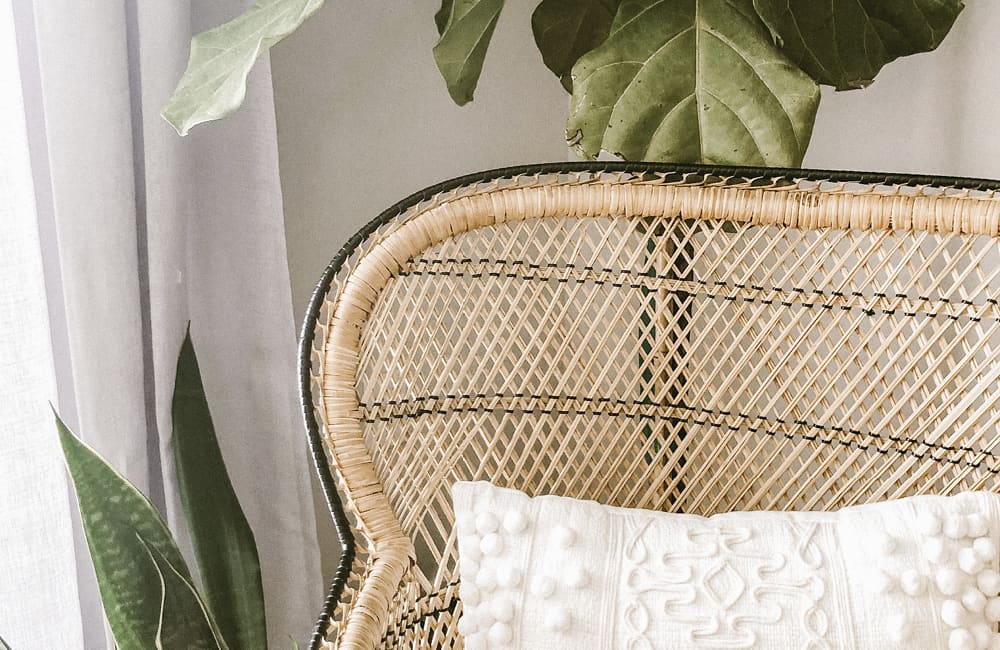 Soft sheers
Looking beyond blinds, we also recommend our dreamy white sheer curtains as a stylish backdrop for your boho interior. The sheer texture ensures the white doesn't become too stark or overpowering, while allowing an abundance of natural light to enter through the windows. This style of window treatments also provides the added bonus of maintaining your privacy during the daytime.
Looking for boho blinds or curtains to liven up your home? We're always happy to help out. Give us a call us on 13 13 15, visit one of our or arrange a free measure and quote with a highly-trained consultant in your own home.
All of our blinds, curtains and awnings are made in Australia and are sold for the lowest prices in the market, guaranteed. Just bring in a quote on any competitor's comparable item and we'll beat it by 5%!
Book an appointment online now
Simply fill out the form below to arrange an obligation-free measure and quote, or to ask us any questions.