9 Ways To Improve Your Home Interior Design on a Budget
Are you looking to update your home decor but don't have a big budget to work with? With our top tips for creating a new style for your home, you'll be amazed how much of a difference you can make without having to spend a fortune. Let's get into some of the best ways you can improve your home's interior design on a budget.
Declutter your space
The first step to creating a brand-new space in your home is to declutter the area you want to redesign. By having a proper clean out, you're getting rid of anything that's broken, old or worn out, and you can work out what you need to replace or add into your decor.
To start the process of decluttering your space, create three piles. These piles will become:
The items you want to keep
The items you want to donate to charity
The items you want to throw away
This system is an easy way to keep track of everything and make the decluttering much simpler.
Another added benefit of decluttering is that you may come across things you forgot you had, that you could repurpose or upcycle for your new space.
Decluttering is also a great starting point if you like the look and feel of a minimalist décor for your home! Minimalism is increasing in popularity for its clean look and modern feel. It's also a cheap interior design style as you are removing any excess and unnecessary items.
If you'd like some more information about cleaning out your space, head to our blog to learn how to declutter using the Konmari method.
Mood boards
Mood boards are a tool you can use to save inspiration for your home décor project. By planning your finished look before you start buying furniture, art, or accessories, you can save a lot of money as you're not impulse buying items that "might work". Instead, you're only buying what you know will be perfect for your space.
To create a mood board, you can use digital tools like Pinterest, and take inspiration from photos you see online, or if you're old school, find some home decor magazines and cut out or bookmark the decor styles or items you want for your space.
Upcycling
Buying brand new furniture can be expensive, and you often end up with mass produced items that won't last long. To save on the costs of purchasing furniture, try upcycling or buying second-hand. Upcycling is a great way to make a statement piece for your home that's only a fraction of the cost.
To find second-hand furniture, try searching in op shops, garage sales or online marketplaces.
You can also upcycle items you already have in your home. For example, if you have an old chest of drawers, you can breathe new life into it with a good sand, a fresh coat of paint and some new finishes such as handles.
Showroom sales
Did you know you can buy new furniture at up to 50% off the retail price by waiting for stores to do a showroom stock sale? When stores want to clear out the old stock they used on their showroom floor, they discount the display furniture and décor to quickly move it out, and bring the new season's stock in. This is a great opportunity to get quality items at a fraction of the cost!
Changing up your throw pillows
Throw pillows are a cheap and easy home décor item to add colour, texture, and patterns into your space in just the right amount. If you're creating a new colour palette, one way to save money with your pillows is to change the cover rather than buying brand-new pillows. You can do this by either unzipping the old pillowcase, or by simply putting a new one over the top.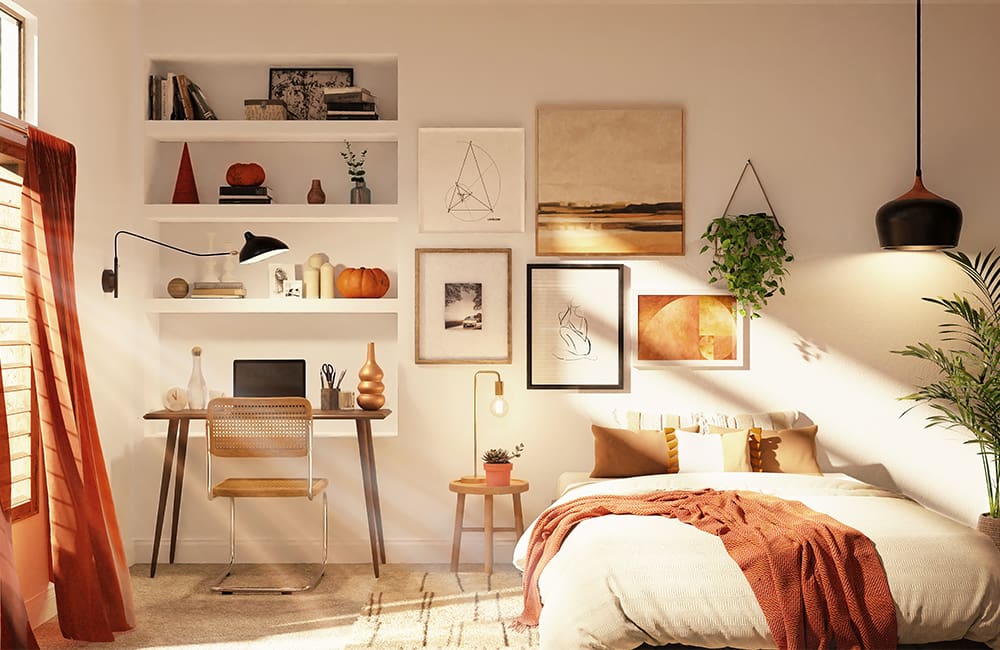 Buying faux plants
While indoor plants are often an easy way to add colour and life into your home, they can be difficult to keep alive, and tend to be pricey. Faux, or fake indoor plants give your space some colour without the high price tag, watering schedule and worry about getting the right lighting.
If you still prefer having real indoor plants, there are plenty of ways to ensure you choose plants suitable for your home and climate. Having the right lighting and blinds is a good starting point to keeping your plants alive a lot longer, and to help them thrive in your home. For more information on how to pair your houseplants with your blinds for their best chance at survival, head to our blog.
Installing new window coverings
Another great interior design idea on a budget is replacing your curtains and blinds. Window coverings are an easy way to bring new life into an outdated space and make it feel new. With many options to choose from that are budget friendly, it's an opportunity to spruce your space without the hefty price tag.
Blind options such as Roller blinds, Vertical blinds or Venetian blinds are great options to improve your home décor on a budget. These blinds start from under $100 and are available in a variety of colours, fabric options and materials to best suit your home and the needs of your room.
If you're not sure which blinds are best for you, head to our blog on the top things to consider when buying new blinds.
If you're wanting to create a luxury look in your home, it's still possible on a small budget with window covering options such as Vertisheer blinds. Vertisheers have the finish of a luxury Sheer curtain, with the functionality of Vertical blinds. They are a great addition to a space and are much cheaper to buy and install than they look! How's that for a home decoration idea!
To find out how you can create a luxury look with Vertisheers in your home, head to our guide!
Prioritise spending on the items you use the most
There are some items in your home that are more expensive, and for a good reason. That's why when you're designing your space, one way to approach it is by prioritising purchasing some items that are more expensive, so they last longer. For example, your couch. A couch is an item everyone in your family is going to use and it needs to be comfortable as well as durable (particularly if you have pets who love a cuddle, or kids with sticky hands).
A fresh coat of paint
Updating your space with a fresh coat of paint is a cheap interior design hack to make a statement in your home. By changing the wall colour, you can create an entire new atmosphere for the cost of some paint, rollers, brushes and drop sheets.
When choosing new colours, it's best to plan out a colour palette before you start decorating and painting. To do this, choose a few colours you like and see how they work together. If you're not sure what colours will work together nicely, try an online colour wheel tool to try different palettes out.
To create the feeling that your room is much larger than it is, choose lighter colours and pair them with window coverings such as Sheer curtains, which let in plenty of natural light and give your room a nice glow.
For a warm, happy, and lively space, try warmer colours such as yellow, orange or a light red colour.
To create a calm, cosy and relaxing room, go for cooler colours like blue, green or a purple.
If you're wanting to learn more about colour theory before choosing new colours for your home, head to our blog for a quick summary!
Are you looking to add new window coverings into your space? To arrange a free measure and quote with a highly-trained consultant in your own home, give us a call on 13 13 15 or fill out this simple online form. We provide this service to a wide range of locations around the metro and select regional areas, 6 days a week between 8am and 6pm.
The majority of our blinds, curtains and awnings are made in Australia and are sold for the lowest price in the market, guaranteed. Just bring in a quote on any competitor's comparable item and we'll beat it by 5%.
Book an appointment online now
Simply fill out the form below to arrange an obligation-free measure and quote, or to ask us any questions.