Enjoy light, air and privacy: Best blinds solutions for your home
Depending on the position of your windows, each room in your home can have its own set of problems, from too much light, to not enough privacy. Part of the reason why we so often end up with the wrong curtains or blinds is because each room has its own individual problems to solve. Identifying what these problems are will help you create a more tailored approach to each room. Keep reading to learn the types of window blinds to fix all of your window problems.
Types of window blinds for you
Privacy blinds
There's nothing worse than getting dressed in the morning, only to realise that your windows aren't totally protected from prying eyes. Roller blinds are a great style of privacy blinds which offer privacy day or night. Simply roll them down to enjoy the full benefits of these privacy blinds.
Blinds that let light in
For rooms that require privacy and plenty of natural light, vision blinds are ideal. These stylish blinds combine the sophisticated light diffusing properties of a translucent fabric with the stylish practicality of a roller blind.
Vision blinds feature two layers of horizontal striped fabric (opaque and translucent), which work in harmony to soften daylight while protecting your privacy. These light-controlling privacy blinds are perfect for areas like the lounge room, study or computer room as they help to reduce a significant amount of glare.
Blinds that block out light
Sick of the harsh Perth sun creating glare and ruining your furniture? Aero double roller blinds could be the right blinds for you. These blinds combine two roller blinds (translucent and blockout fabric) in one stylish unit. The blockout fabric is guaranteed to block any outside light from entering the room, making these blinds ideal for bedrooms, nurseries and lounge rooms.
During the day, the blockout layer can be raised so that you can enjoy the view without compromising on privacy. You can find out more about double roller blinds in our blog. Feeling the heat inside your Perth home? Our auto awnings are fixed to the external face of your window to stop excess heat from entering the windows on hot days.
On the other hand, if you want to spend some time outdoors without getting too hot, zipscreen blinds are a great choice. The patented, zip-lock technology means you can turn your alfresco area into a comfortable space for relaxing (even in the middle of a stinking hot Perth summer)!
Blinds that increase airflow
If your home tends to get stuffy from lack of air, opt for shutters over blinds. Indoor shutters allow a free flow of air into any room, while protecting your furnishings and carpets from harsh sunlight. Choose from durable aluminium shutters or natural basswood shutters for your home.
Blinds that look like curtains
If you're interested in curtains and drapes but want a more modern look, consider vertisheers for your home. Rather than having to choose whether you want curtains or blinds, this style offers the benefit of both a sheer and blockout window dressing all in the one product!
Blinds that look like shutters
For the sleek and striking appearance of a shutter at a lower price, look no further than Venetian blinds. Beyond their stylish appearance, these blinds are incredibly low maintenance and offer complete light and privacy control.
When completely raised, the blinds stack at the highest point of the window without blocking your view. They can also be tilted to adjust privacy and lighting levels in frequently used rooms like the bedroom or living room.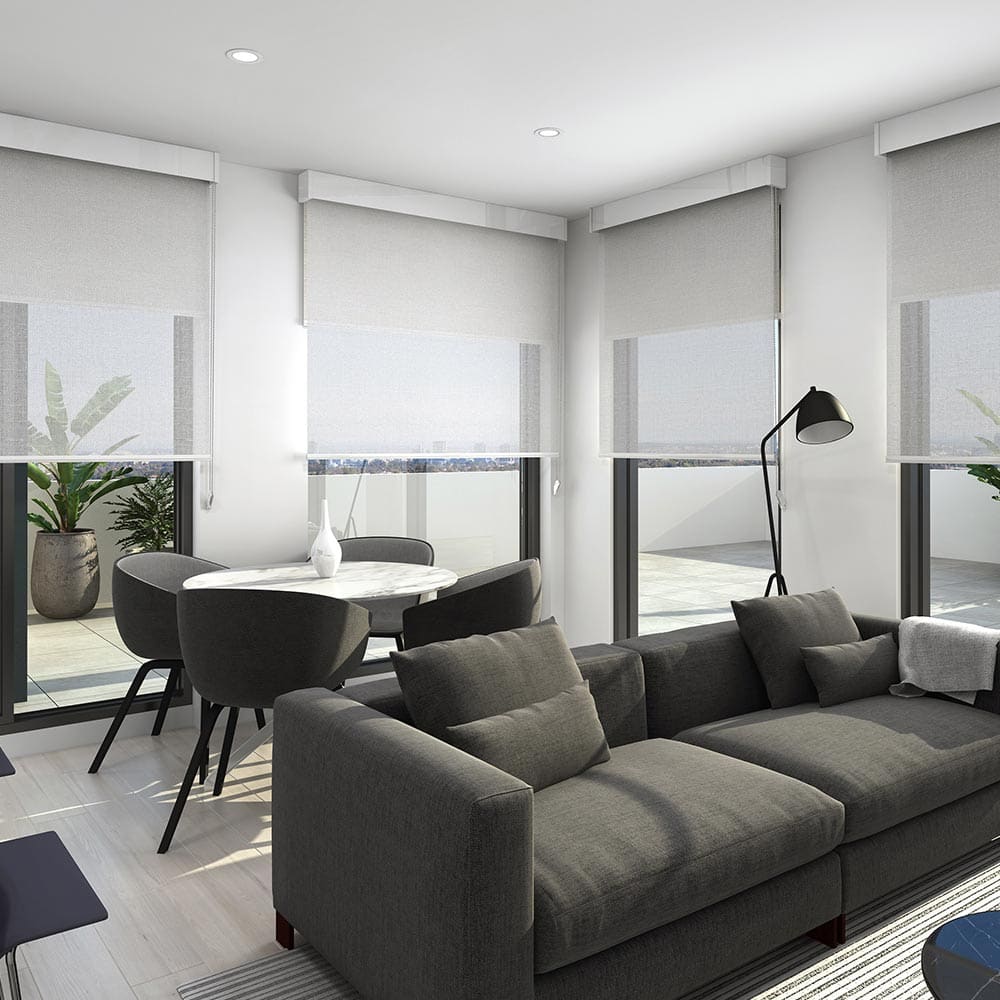 For more information on the right shutters, curtains or blinds for you, check out these FAQs. You can also call us on 13 13 15, visit one of our Perth showrooms to view our blinds gallery or arrange a free measure and quote with one of our highly-trained consultants in your own home. You can also view our blinds online.
All of our blinds, shutters, curtains and awnings are made in Australia and are sold for the lowest prices in the market, guaranteed. Just bring in a quote on any competitor's comparable item and we'll beat it by 5%!
Book a FREE Measure and Quote now
Simply fill out the form to book an appointment for an obligation-FREE measure and quote, or to ask us any questions.
Which product are you interested in?
Next is we need to know your address for us to select the nearest consultant in your area.