We all know that us adults need an average of seven to nine hours of sleep every night. Buuut whether or not we're actually getting that is a totally different story! One thing that can have a profound effect on sleep is light. It can determine whether or not you wake up feeling rested… or feeling like you barely slept a wink.
Do blackout blinds help you sleep?
If you've ever woken up minutes before your alarm was about to go off, you'll be familiar with the idea of a light-controlled body clock. Light triggers all kinds of internal chemical events in the body, including the production of the sleep-inducing hormone melatonin. As the sun goes down, melatonin levels rise, and our body temperature falls. It's these two physiological responses that help us to become less alert and more likely to fall asleep.
If you're not getting the best sleep possible, there are certain tactics you've probably already tried, for example: cutting back on caffeine, sticking to a strict sleep schedule or meditating before bed. Another tactic that you may not have considered is to invest in products that'll darken your bedroom.
As darkness is essential to a good night's rest, it's safe to say that blackout or blockout blinds can help you sleep! Blockout or blackout blinds are particularly important if you live in a suburban or city area, as exposure to streetlights, car headlights and other bright outside light can alter your body clock.
Reduce bedroom light with blockout blinds
Roller Blinds and Roman Blinds
If you're looking for an affordable bedroom blind that can help you sleep better, choose roller blinds or Roman blinds These stylish blinds are similar in appearance, both featuring a single layer of fabric that can be completely raised or lowered to increase or reduce levels of light and privacy.
The best feature of these blinds is that they can be custom-made in blockout/blackout fabric to block light and even reduce outside noise. This means you can control how much light enters your bedroom at any time of the day, which is particularly beneficial for anyone needing to sleep during the day (hello babies, nappers and night-shift workers).
Double roller blinds
Double rollers are a little pricier than Romans or single rollers, however they offer the added benefit of two blinds in one stylish system. With double rollers, you can choose two different fabrics and pair them together, such as a suscnreen layer with a blockout layer. With this combination, you can enjoy daytime privacy and reduce glare, in addition to total darkness at night.
Blockout curtains
For fashionable and functional window treatments, choose blockout curtains.This type of curtain is lined with a thick layer of blackout/blackout fabric, which ensures no outside light can pass through. For optimal results, consider pairing your blockout curtains with padded pelmets to stop light from spilling above the curtains.
No matter which style you decide on, blockout blinds and blockout curtains are an effective way to improve your quality of sleep.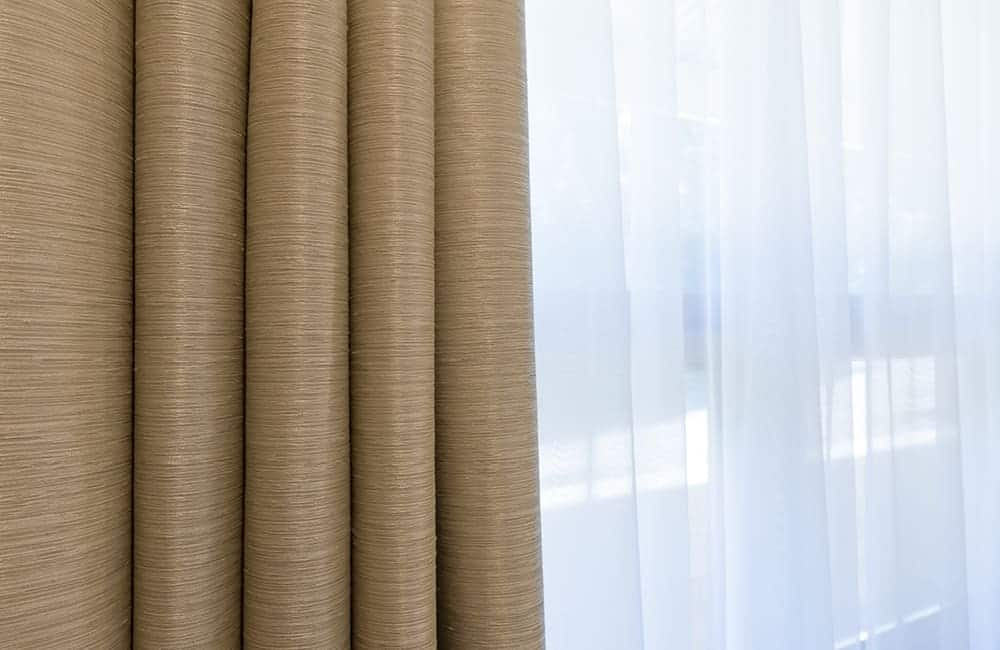 Additional causes of interrupted sleep
In addition to having non-light blocking blinds installed in your bedroom, there may also be a few other reasons why you're experiencing interrupted sleep.
• Incorrectly fitted blinds: Window measurements play a vital role in how functional the blind or curtain is. At ABC Blinds, we professionally measure and install your window treatments, ensuring that they fit the windows perfectly. This way, additional light can't enter through the tops or sides of the window frame.
•Blinds fitted inside the mount: If there's still too much light coming through your windows, it may be because of the way your window treatments have been fitted. A way to minimise light gaps is to request outside mounted blinds or curtains, which means the window treatment is mounted on the wall above (or outside) the window frame.
Interested in blackout blinds or blockout curtains? Give us a call us on 13 13 15, visit one of our Perth showrooms or arrange a free measure and quote with a highly-trained consultant in your own home.
All of our blinds, shutters, curtains and awnings are made in Australia and are sold for the lowest prices in the market, guaranteed. Just bring in a quote on any competitor's comparable item and we'll beat it by 5%!